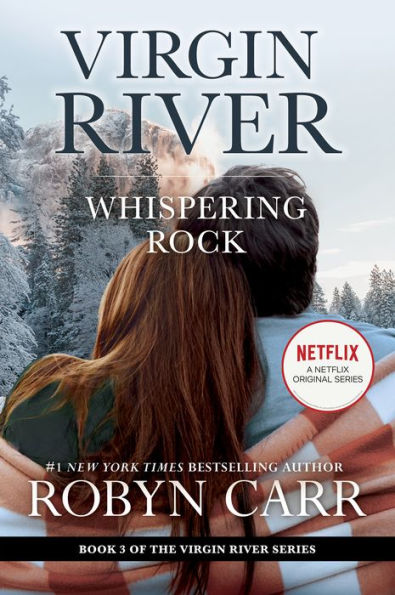 Virgin River Book #3
August 24, 2021
MIRA Paperback, eBook, audio
Whispering Rock
Welcome back to Virgin River with the books that inspired the hit Netflix series…
Virgin River became a safe haven for Sacramento prosecutor Brie Sheridan after she nearly lost her life at the hands of a violent criminal. Though tough and courageous, she has some fears she can't escape.
LAPD officer Mike Valenzuela was badly wounded in the line of duty. When he agrees to become Virgin River's first cop, he does so knowing it's time he settled down. Twice divorced and the lover of too many women, he secretly longs for the kind of commitment and happiness his marine buddies have found—a woman who can tie up his heart forever.
Mike will do anything to help Brie free herself from painful memories. Passionate, strong and gentle, he vows to give back to her what she's so selflessly given him—her heart, and with it, a new beginning.
Originally published June 2007 in mass market paperback and reissued June 2010 in mass market paperback and eBook, February 2011 in trade paperback and March 2013 in mass market paperback and eBook and September 2020 in mass market paperback.
Netflix cover art editions: Trade paperback August 24, 2021, Mass market paperback September 28, 2021
Virgin River Novels
Book 1: Virgin River
Book 2: Shelter Mountain
Book 3: Whispering Rock
Book 4: A Virgin River Christmas
Book 5: Second Chance Pass
Book 6: Temptation Ridge
Book 7: Paradise Valley
Book 8: Forbidden Falls
Book 9: Angel's Peak
Book 10: Moonlight Road
Book 11: Promise Canyon
Book 12: Wild Man Creek
Book 13: Harvest Moon
Book 14: Bring Me Home for Christmas
Book 15: Hidden Summit
Book 16: Redwood Bend
Book 17: Sunrise Point
Book 18: My Kind of Christmas
Book 19: Return to Virgin River
Excerpt
Chapter One
Mike Valenzuela was up and had his Jeep SUV packed long before sunrise. He had a long drive to Los Angeles and meant to get an early start. Depending on traffic around the Bay Area, the drive would be eight to ten hours from Virgin River. He locked up his RV, which was his home. It sat on the property at Jack's bar and grill; Jack and Preacher would keep an eye on it for him, not that Mike expected any kind of trouble. That was one of several reasons he'd chosen to live here—it was quiet. Small, peaceful, beautiful and nothing to disturb one's peace of mind. Mike had had enough of that in his former life.
Before coming to Virgin River permanently, Mike had made many trips to this Humboldt County mountain town for hunting and fishing, for gathering with an old Marine squad that was still close. His full time job had been with LAPD, a sergeant in the gangs division. Then he was shot on the job; he took three bullets and had a lot of hard work getting his body back. He'd needed Preacher's robust food while he worked on rehabilitating his shoulder. After six months, Mike was as close to completely recovered as he'd get.
Since coming to Virgin River he'd been home only once to visit his parents, siblings and their families. He planned to take a week—one day driving each way and five days with that crowd of laughing, dancing Mexicans. Knowing the traditions of his family, it would be a nonstop celebration. His mother and sisters would cook from morning to night, his brothers would stock the refrigerator with cerveza, family friends and cop buddies from the department would drop by the house. It would be a good time—a great homecoming after his long recovery.
He was three hours into his drive when his cell phone rang. The noise startled him. There was no cell phone reception in Virgin River so the last thing he expected was a phone call.
"Hello?" he answered.
"I need a favor," Jack said without preamble. His voice sounded gravelly, as though barely awake. He must not have remembered Mike was heading south.
Mike looked at the dash clock. It wasn't yet seven a.m. He laughed. "Well sure, but I'm nearly in Santa Rosa, so it might be inconvenient to run over to Garberville and get you ice for the bar, but—"
"Mike, it's Brie," Jack said. Brie was Jack's youngest sister, his pet, his favorite. And she was really special to Mike. "She's in the hospital."
Mike actually swerved on the highway. "Hold on," he said. "Stay there." He pulled off the road onto a safe-looking shoulder. Then he took a deep breath. "Go ahead," he said.
"She was assaulted sometime last night," Jack said. "Beaten. Raped."
"No!" Mike said. "What?"
Jack didn't repeat himself. "My father just called a little while ago. I'll get on the road as soon as I can. Listen, I need someone who knows law enforcement, criminology, to walk me through what's happening with her. They don't have the guy who did this—there's got to be an investigation. Right?"
"How bad is she?" Mike asked.
"My dad didn't have a lot of details, but she's out of emergency and in a room, sedated and semiconscious, no surgery. Can you write down a couple of numbers? Can you keep your cell phone turned on so I can call you? With questions? That kind of thing?"
"Of course. Yes," Mike said. "Gimme numbers."
Jack recited phone numbers for the hospital and Jack's father Sam's cell phone.
"Do they have a suspect? Did she know the guy?"
"I don't know anything except her condition. After I get on the road, get the phone charged and am out of the mountains and through the redwoods, I'll call my dad and see what he can tell me. Right now I gotta go. I gotta get down there."
"Right," Mike said. "Okay. My phone will be in my pocket twenty-four-seven. I'll call the hospital, see what I can find out."
"Thanks. Appreciate it," Jack said, hanging up.
Mike sat on the shoulder, staring at the phone for a long minute, helpless. Not Brie, he thought. Oh God, not Brie!
His mind flashed on times they'd been together. A couple of months ago she'd been in Virgin River to spend a little time with her brother. Mike had taken her on a picnic at the river, to a special place were the river was wide, but too shallow for fishermen to bother. They'd had lunch against a big boulder, close enough to hear the water whisper by as it passed over the rocks. It was a place frequented by young lovers and teenagers, and that big old rock had seen some wonderful things on the river bank; it protected many secrets. Some of his own, in fact. He'd held Brie's hand for a long time that day, and she hadn't pulled it away. It was the first time he realized he was taken with her. A crush. At thirty-seven, he felt it was an old man's crush, but damned if it didn't feel awfully like a sixteen-year-old's.
When Mike met Brie for the first time a few years back, he'd gone to see her brother while Jack was on leave, visiting his family in Sacramento right before his last assignment in Iraq. Mike was oblivious to the fact that his reserve unit would be activated and he'd end up meeting Jack over there, serving under him a second time. Brie was there, of course, recently married to a Sacramento cop. Nice guy, so Mike had thought. She was a prosecutor for the county in Sacramento, the state capitol. She was small, about five-three, with long, soft brown hair that flowed almost to her waist and made her look like a mere girl. But she was no girl. She put away hardened criminals for a living; she had a reputation as one of the toughest prosecutors in the county. Mike had immediately admired her brains, her grit, not to mention her beauty. In his past life, before the shooting, he'd never been particularly discouraged by the mere presence of a husband, but they were newlyweds, and Brie was in love. No other man existed for her.
When Mike saw her in Virgin River a couple of months ago, she was trying to recover from a painful divorce—her husband had left her for her best friend, and Brie was shattered. Lonely. So hurt. Mike immediately wanted to take her into his arms and console her, for he was hurting too. But Brie, crushed by her husband's infidelity, was determined not to put her heart on the line again, and she wanted nothing of a man, especially another player who'd had more than his share of women. A further complication—this was Jack's baby sister, of whom he was so protective it verged on ridiculous. And Mike was no longer a driven, devil may care Latino lover. He was a cripple. The body just didn't work right anymore.
It had been only a couple of weeks since he'd last seen her. She came back to Virgin River and there was a wedding in town. For a man who could barely walk six months ago, Mike had given Brie a fairly decent twirl around the dance floor at the reception. It was a fantastic party—full of that good old country food, barbeques flaming, the chairs pushed back and the band set up. He grabbed her, laughing, into his arms and whirled her around with abandon, and whenever the tempo allowed, pressed his cheek close against hers, whispering in conspiratorial amusement, "Your brother is frowning at us."
"I wonder why that is," she laughed.
"I don't think he wants you near a man so like himself," Mike speculated.
That seemed to amuse her a great deal. She tipped her head back and laughed a little wildly. "Don't flatter yourself," she said. "It has nothing to do with your great success with women. You're a man, near his baby sister. That's enough."
"You're no baby," he said, pulling her closer. "And I think you're having too much fun with this, getting him riled up. Don't you realize he has a dangerous temper?"
Unmistakably, she held him tighter. "Not toward me," she whispered.
"There's a devil in you," he said, and looked death in the face by kissing her neck.
"There's a fool in you," she said, tilting her head just slightly to give him more of her neck.
In years gone by he would have found a way to get her alone, seduced her, made love to her in ways she'd dream about later. But three bullets had decided a few things. Even if he could spirit her away from her brother's protective stare, he wouldn't be able to perform. So he said, "You're trying to get me shot again."
"Oh, I doubt he'd actually shoot you. But I haven't been to a good old fashioned wedding brawl in ages."
When they said goodbye, he had hugged her briefly, her sweet scent like a cinch around his mind, feeling her cheek against his, his arms around her waist, pulling her close. A bit more than just a friendly gesture—a suggestive one, which she returned. He assumed she was having fun with the flirtation, stirring things up a little bit, but it meant far more than that to him. Brie held his thoughts in a disturbing way that suggested if he were capable of giving her love, she could capture his heart and mind in that powerful way that wipes all other women out of the past. He really didn't have that to offer anymore. Although, that didn't keep him from thinking about her, wanting her.
He could not bear to think about all that mischief and sass lying broken and violated in a hospital. His heart was in pieces, aching for her. Dying to know that she was going to be all right.
He put the SUV in drive, looked over his shoulder and got back on the freeway. He gunned the engine and veered across two lanes of fast-moving traffic to make the exit to Sacramento.
~~~~~~~~~~~~~~~~~~~~~~~~~~~~~~~~~
When Mike got to the county hospital a couple of hours later, he called Sam's cell phone number to say he'd arrived and wanted to know where they were. A prosecutor, the victim of a crime, was not going to be with the general population—she would undoubtedly have security.
Sam came to the hospital entrance, extending his hand. "Mike. Good of you to come. I know Jack will appreciate it."
"I was on my way south and was almost here anyway. Brie's a special friend. I'll do anything I can…"
Sam turned and headed for the elevators. "Unfortunately, I'm not sure what you can do. She's going to be all right. Physically. I have no idea what a woman goes through after something like this…"
"Tell me what you know so far," Mike said. "Did she know her attacker?"
"Oh yes. Remember that terrible trial she had not long ago? The serial rapist? The media circus? It was him. She identified him for police."
Mike stopped walking and frowned. "She's sure?" he asked. That was such a sick, bold move for someone who'd just gotten a free pass. Brie had lost that trial and it was a hard loss, especially coming on the heels of her divorce. It was as if the sky was falling on her. Also, it wasn't something men like that did. Typically, they bolted. Got away from anyone who had the balls to go after them, as Brie had.
"She's sure," Sam said.
Mike couldn't help but wonder—was she hit in the head? Hallucinating? In and out of reality because of the trauma? "Her injuries?" he asked.
"Her face is battered, there are two broken ribs, and the usual…" He paused. "The usual injuries incurred during a rape. You know."
"I know," he said. Tearing, bleeding, bruising. "Has she been seen by a rape specialist and police?"
"Yes, that's been done."
"Good," Mike said. "I heard from Jack at seven this morning. He should be here in two or three hours, depending on how fast he got out of town." Mike noticed a uniformed Sac PD officer standing at the entrance to a room; undoubtedly that's where Brie was. "Well, let me talk to some people, see if I can find out anything at all. But first, I'll say hello to the family." He moved to a large clot of people in the waiting area just down the hall. Jack's three other sisters, their husbands, a few of his nieces. Mike was embraced and thanked. Then he got about the business of talking to nurses, got the number of the detective on the case from the officer guarding the room. All the detective could tell Mike at this time was that the suspect was still at large. The doctor would discuss her injuries, that was all. But it appeared that apart from being horribly assaulted, she could recover physically.
It was almost three hours later that Jack arrived. He embraced his father, then looked in surprise at Mike. "You're here?"
"I was already close," he said. "I thought I'd come over. If I can help, it's convenient for me to be on site."
"Oh man, I didn't expect this," Jack said.
"Hell, you've done more for me," Mike said. "And you know I love Brie. Go hug your sisters. Then you can see her."
"Have you seen her yet?" Jack asked.
"No. It's family only. But I've talked to some people, trying to gather whatever facts they'll share."
"God," Jack said, gripping Mike's biceps hard. "Thanks. Mike, I didn't expect this."
"You should have," he laughed. "That's how it is with us. Right?"
~~~~~~~~~~~~~~~~~~~~~~~~~~~~~~~~~
Jack sat by his sister's bedside at the county hospital for almost twelve straight hours. He had arrived at eleven in the morning and it was eleven p.m. Outside her door in the hallway the family had gathered for most of the day, but as evening had descended, they'd drifted home because she was out of danger and sedated. Mike had gone back to Sam's for a while, but Jack hadn't wanted to leave Brie. Brie was close to her entire family, but it was Jack with whom she had the deepest bond.
Jack was torn to pieces as he looked down on his little sister. Her face was horrific; the bruising and swelling was terrible. It looked much worse than it was, the doctor promised. There was no permanent damage; she would regain her former beauty. Every few minutes he would reach over, gently smooth back her light brown hair, touch her hand. She wrestled in her sleep now and then, despite the sedatives. If not for the ribs, he might have taken her into his strong arms during these struggles. Instead he would lean over her bed, touch her face where there was no swelling, drop a tender kiss on her forehead and whisper, "I'm here, Brie. You're safe now, baby."
At almost midnight, he felt a hand on his shoulder and turned to look up into Mike's black eyes.
"Go on home, Jack," he said. "Get a little rest. I'll sit with her."
"I can't leave her," Jack said.
"I know you don't want to. But I had a nap," he lied. "Sam gave me a room at the house. I'll sit right here in case she wakes up, which she probably won't, and we've got the cop in the hall there. Go. Get a little rest so you can be here for her tomorrow."
"If she wakes up and I'm not right here…"
"They're putting heavy duty bug juice right in the IV to get her through the night," Mike said softly. "It's okay."
Jack laughed a little. "I sat by your bed through a week of nights when you were shot."
"Yeah," Mike said. "Payback time. Go home. See you first thing tomorrow."
It surprised Mike that Jack actually left. He was the kind of man who went days past exhaustion to be there for someone he cared about. Mike took his place on a chair beside Brie's bed and sat vigil. Her battered face didn't shock him — he'd seen worse. But it hurt him inside. He couldn't imagine the kind of monster who could do that.
The nurses came and went through the night, checking her IV, taking her blood pressure, sometimes bringing Mike coffee from their break room—and it tasted a whole lot better than what the machines dispensed. If he asked, a nurse would sit with Brie while he ran down the hall—a result of the coffee. But, Brie didn't move except for some occasional disturbances that caused her to stir fitfully.
Mike had carried fallen soldiers out of harm's way; he'd sat by the side of dying men while sniper fire whizzed past his head. But nothing compared to what he felt while looking down Brie, beaten like this. To think of her violation filled him with a kind of rage that had never been visited on him before. Although she was a beautiful woman and strong, his vision kept mixing her up with the vulnerable woman he'd taken on a picnic a couple of months ago. A pretty young woman who'd just been left by her husband, and was crushed by the betrayal. And what fool would give her up? he thought. It was beyond him.
The rape trial had been one of the toughest of her career. It had taken her months to prepare a case against the suspect for serial rape. The forensic evidence had been strong, but in the end the only witness who hadn't failed her was a prostitute with a bad record, and the guy walked. Brie identified him to the police as her rapist when she'd regained consciousness.
In the early hours of the morning, she turned her swollen face toward him and opened her eyes—or tried to. One was partially shut because of the swelling. He scooted closer. "Brie," he whispered. "It's me, Brie. I'm here."
She put her hands over her face and cried out. "No! No!"
He took gentle hold of her wrists. "Brie! It's me. It's Mike. It's okay."
But he couldn't pull her hands away from her face. "Please," she whimpered pitifully. "I don't want you to see this…"
"Honey, I saw you already," he said. "I've been sitting her for hours. Let it go," he said. "It's okay."
She let him slowly pull her hands away from her battered face. "Why? Why are you here? You shouldn't be here!"
"Jack wanted me to help him understand what was happening with the investigation. But I wanted to be here. Brie, I wanted to be here for you." He brushed her brow gently. "You're going to be okay."
"He… He got my gun…"
"The police know, honey. You didn't do anything wrong."
"He so dangerous. I tried to get him, that's why he did this. I was going to put him away for life."
Mike's jaw pulsed, but he kept his voice soft. "It's okay, Brie. It's over now."
"Did they find him?" she asked. "Did they pick him up?"
Oh, how he wished she wouldn't ask that. "Not yet."
"Do you know why he didn't kill me?" she asked, a tear running out of her swollen eye and down over the bridge of her purple nose. He tenderly wiped it away. "He said he didn't want me to die. He wanted me to try to get him again, and watch him walk again. He wore a condom."
"Aw, honey…"
"I'm going to get him, Mike."
"Please… Don't think about that now. I'll get the nurse. Get you another sedative." He put the light on and the nurse came immediately. "Brie needs something to help her go back to sleep."
"Sure," the nurse said.
"I'm just going to wake up again," she said. "And I'm just going think the same things."
"Try to rest," he said, leaning over to kiss her brow. "I'll be right here. And there's an officer outside your door. You're completely safe."
"Mike," she whispered. She held his hand for a long moment. "Did Jack ask you to come?"
"No," he said, gently touching her brow. "But when I found out what happened, I had to come," he whispered. "I had to."
After having a sedative administered into the IV, she gently closed her eyes again. Her hand slipped out of his and he sat back in his chair. Then, his elbows on his knees and his face buried in his hands, he silently wept.
~~~~~~~~~~~~~~~~~~~~~~~~~~~~~~~~~
Jack was back at the hospital before dawn, not looking particularly rested although he had showered and shaved. He had dark circles under eyes that were lit by a very scary brightness. Mike had sisters he cherished; he could imagine the rage that burned inside Jack.
Mike stepped into the hall outside Brie's door to quietly talk with Jack, explaining the night had been quiet and he thought Brie had rested. While they stood there the doctor making rounds went into the room, his nurse in tow. Mike used that opportunity to visit the men's room. He stared in the mirror; he looked far worse than Jack. He needed a shower and shave, but he didn't want to leave her. Family members would be returning soon, but Mike didn't think they'd be keeping Brie in the hospital long.
On his way back to Brie's room, he saw Jack talking to a man outside her door. In fact, Jack was right up in his face. The officer providing security was stepping closer to them, making a gesture with his hands that they should separate. Then Mike realized it was Brie's ex-husband, Brad, and that probably within seconds Jack was going to kill him just on principle.
Mike made fast tracks. "Whoa," he said, separating them first with an arm between them, then with his entire body. "Whoa," he said again. "None of this. Come on."
From over Mike's shoulder, Jack demanded of Brad, "What the hell are you doing here?"
Brad glared meanly. "Nice to see you, too, Jack," he said.
"You don't belong here," Jack said too loudly. "You left her. You're done with her."
"Hey," he said, bristling. "I never stopped caring about Brie. Never will. I'm going to see her."
"I don't think so," Jack said. "She's in no shape to have to deal with you right now."
"You're not in charge of the guest list, Jack. That's up to Brie."
"Come on," Mike said sternly. "Let's not do this here."
"Ask him if he wants to take it outside," Jack snapped back.
"Yeah, I'll—"
"Whoa," Mike said yet again, widening the space between the two men. "This isn't happening here!"
Brad moved closer, pushing up against Mike, but lowered his voice cautiously. "I know you're angry, Jack. In general and at me. I don't blame you. But if you get tough with me, it's going to be worse for Brie. And this officer is just going to hook you up."
Jack ground his teeth, pushing up against the other side of Mike. Mike was having some trouble holding them apart. "I really want to hit someone," Jack said through clenched teeth. "Right now, you'd do as well as anyone. You walked out on your marriage. You left her while she was building a case against that son of a bitch. Do you have any idea what you did to her?"
Who boy, Mike thought. It was going to happen between these two any second, right in the hospital hallway. Mike was a good six feet and pretty strong, but Brad and Jack were both taller, broader, angrier and not a shoulder injury between them. Mike was going to get hammered when they lost it and started pummeling each other.
"Yeah," Brad said. "Yeah, I do! And I want her to know that I still care about what happens to her. We're divorced, but we have history. A lot of it good history. If I can do anything now…"
"Hey!" Mike said to the cop. "Hey! Come on!"
The police officer finally got in it, putting himself between Brad and Jack along with Mike. "All right, gentlemen," the cop said. "I have my orders. No scuffling outside Ms. Sheridan's door. If you want to talk this over, calmly, I'd like you to move down the hall."
Oh, that was not a good suggestion, Mike thought. If they moved down the hall, they wouldn't be talking. Mike cautiously backed Jack up a few steps. "Take a breath," he said quietly. "You don't want to do this."
Jack glowered at Mike. "You sure about that?"
"Back off," Mike said with as much authority as he could muster.
Just then a nurse came out of Brie's room and Brad snagged her too fast for Jack to intervene. "Ma'am, I'm Ms. Sheridan's ex husband. Brad. I'm also a police detective," he said, badging her. "Off duty. Will you ask her if she'll see me? Please?"
The nurse made a U-turn and went back into the room.
"What's he doing here?" Brad asked, indicating Mike with his eyes and a jut of his chin.
Oh, mistake, Mike thought instantly, stiffening. Was Brad crazy? Pissing off the guy who was keeping Jack from killing him? He felt his own fists begin to open and close. The ex wants to know why another man is here? He dumps his wife for another woman, but no guy is supposed to pick up where he left off? Mike actually smiled, though coldly. Balls, he thought. I should just let Jack beat him up.
"He's a cop," Jack said, stretching the truth somewhat. "I asked him to come. To help."
"He can go," Brad said. "We don't need his help."
That did it. Mike took one fast step in Brad's direction, but was stopped by a strong hand on the bad shoulder, pulling him back. That was all it took to get his attention; he wasn't going to put Brie through this. But if they all ran into each other somewhere else, like the parking lot, he couldn't make any promises. Right now he wanted a piece of Brad as much as Jack did.
The nurse returned from the room and spoke to Brad. "When the doctor is finished, you can go in."
Brad had the good sense not to take on any superior airs. He didn't avoid eye contact with the other men, however.
"Let me ask you one question," Jack said to Brad, trying to keep his voice under control to avoid being ejected by the uniform. "Were you at work the night it happened?"
"No."
Jack ground his teeth. "Then if you hadn't walked out on her for another woman, you'd have been at the house that night. Maybe waiting up for her to get home. Maybe right inside where you could hear her scream. So much for your good history."
"Hey," Brad began, clearly wishing to argue the point. But Jack turned away from him and took several steps down the hall. Right then the doctor came breezing out of the room, looking down at the chart as he walked by all three men. Brad lifted his chin, glared briefly and entered Brie's room.
Mike let out his breath. "That was gonna be so ugly," he said. He went to the chair outside Brie's door and sat. Jack paced, fidgeting. He took several steps down the hall, away from the door.
Mike rested his elbows on his knees. He scratched his itchy beard. He noticed the cop was standing beside him.
"This has got to be tough," the cop said to Mike, indicating Jack just a few feet away, his jaw pulsing and twitching his hands in fists at his sides.
Mike turned his head, looked up at the young officer. He glanced at his best friend; Jack was tortured, helpless. "Nothing can prepare you for something like this to happen to a woman you love," he said softly. "Nothing."
~~~~~~~~~~~~~~~~~~~~~~~~~~~~~~~~~
Brie was released from the hospital that afternoon and she went home to her father's house. Sam and Jack drove her while Mike followed in his own car, watching with concern. He hadn't been around very many sexual assault victims in his police career, but certainly he'd come into contact with some. He had never seen a woman so stoic, so removed. Once they all arrived at Sam's, she went directly to the room that had been hers when she was younger. She called Jack to come, to cover the mirror.
Brie took her dinner on a tray in her room that night. Her sisters stopped by one at a time, visited with her in her room, but didn't stay long. There were five Sheridan siblings in all. Two of the sisters were older than Jack, one was a couple of years younger and then there was Brie, the caboose, eleven years younger than Jack. Her three older sisters had brought to the family eight daughters, so when the family was all together, it was an almost unmanageable crowd. A teeming throng filled with noise and laughter— Mike had seen that for himself on earlier visits. It was not unlike the Valenzuela household. Not so now. The house was still, like a mausoleum.
Mike had a quiet dinner with Sam and Jack.
"You should probably head for LA," Jack said to Mike when the table was cleared.
"Whatever." He shrugged. "I can stay a day or so, see if anything develops."
"I don't want to hold you up," Jack said. Then he walked out onto the patio and Mike followed. "I can call you if anything happens."
Sam came outside holding a tray with three glasses. There was a short shot of amber liquid in each and he put the tray on the patio table. Without conversation, the men each took one, sipping in silence. The June air was sultry in the Sacramento valley; humid and almost oppressive. After a few minutes, Sam got up and said good night. Then Jack finished his drink and went into the house. One by one, the lights inside began to go out, leaving only the kitchen light for Mike. Exhausted as he was, he didn't feel like sleep. He helped himself to another short shot and went back to the patio, lighting the candle on the table.
The whole family is in shock, he thought. They move around silently; they grieve Brie's lost innocence. Everyone under this roof is in terrible pain; they feel each physical blow for which she bears the marks.
"You should probably go now."
He lifted his head and saw her standing in the open patio doors, wearing the same clothes she had worn home from the hospital. "Brie," he said, rising.
"I've talked to the detectives several times. Jerome Powell, the rapist, was tracked as far as New Mexico, then the trail was lost," she said, very businesslike. "I can tell you from experience, the odds are at least ninety-five percent he's gone—pulled a territorial. I'm going to start counseling and group therapy right away—and I've decided not to go back to work for a while. Jack insists on staying the rest of the week, but you should go. Visit your family."
"Would you like to come and sit with me?" he asked.
She shook her head. "I'll talk to the DA every day, see if he's turned up anything new. Of course I'm staying here. If I need any assistance in the police department, I have an ex-husband who's feeling very guilty. And very helpful." She took a breath. "I wanted to say good bye. And thank you for trying to help."
"Brie," he said, taking a step toward her, his arms open.
She held up a hand and the look that came into her eyes stopped him where he was. She shook her head, kept her hand raised against him. "You understand," she said, warning him not to get too close, not to touch her.
"Of course," he said.
"Drive carefully," she said, disappearing into the house.
© Reprinted by permission. All rights reserved.
Keep Reading
back to Top
Character Sketches
Tommy Booth—The new kid in Virgin River, this shy, athletic high school senior is the son of retired Army General Walt Booth and brother of Vanni. He plans to attend West Point.
Brenda Carpenter—Having recently suffered a miscarriage, Brenda loses her heart to Tommy Booth, who helps find the rapist targeting high school girls at area parties.
Walt Booth—The 61-year-old retired Army general and widow, whose two children, Vanessa and Tommy, have roots in Virgin River, as does his niece, Shelby.
Paul Haggerty—Now a local builder, Paul, 35, was best friends with and a Marine buddy of Matt Rutledge, who died serving his country. Living by the marine motto, Semper Fidelis, Paul honors his friend's memory by helping Matt's widow, Vanessa Rutledge, and her baby.
Matthew (Mattie) Paul Rutledge—Son of Vanessa Rutledge and her deceased Marine husband, Matthew.