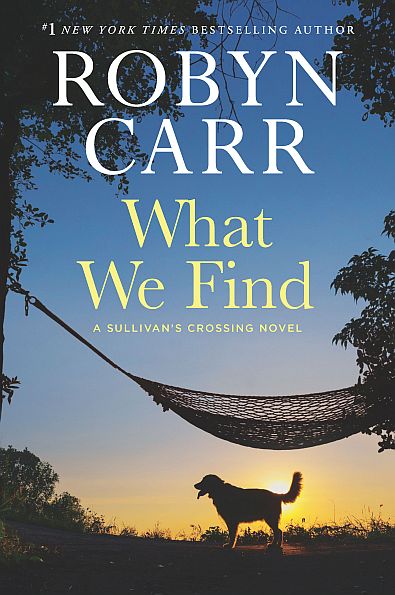 Sullivan's Crossing Book #1
January 26, 2021
MIRA Hardcover, eBook, mass market paperback, trade paperback
What We Find
The #1 New York Times bestselling author of the Virgin River series explores the healing powers of Colorado as one woman seeks the happiness she's long been missing.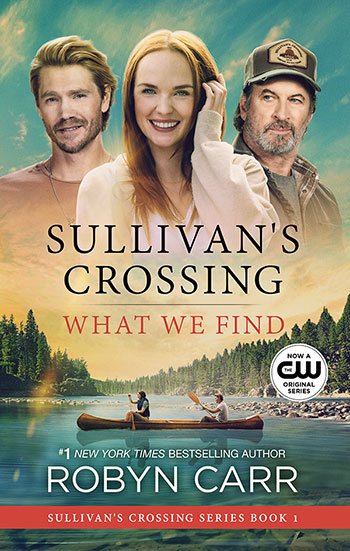 Ebook Cover
October 2023
Maggie Sullivan knows she needs to slow down and the best place to do that is Sullivan's Crossing. The campground and charming general store at the crossroads of the Colorado and the Continental Divide Trails belong to Maggie's eccentric father, Sully, and she longs to indulge in his simple way of life.
But when Maggie must take responsibility for the Crossing, a quiet and serious hiker, Cal Jones, offers to lend a hand. Maggie is suspicious—until she discovers the true reason for his deliberate isolation.
Though Cal and Maggie each struggle with loss and loneliness, the time they spend together gives them hope for something brighter on the horizon…if only they can learn to find peace and healing—and perhaps love—with each other.
Originally published April 2016 in hardcover and eBook and March 2017 in mass market paperback.
Excerpt
Chapter One
Maggie sought refuge in the stairwell between the sixth and seventh floors at the far west end of the hospital, the steps least traveled by interns and residents racing from floor to floor, from emergency to emergency. She sat on the landing between two flights, feet on the stairs, arms crossed on her knees, her face buried in her arms. She didn't understand how her heart could feel as if it was breaking every day. She thought of herself as much stronger.
"Well, now, some things never change," a familiar voice said. She looked up at her closest friend, Jaycee Kent. They had gone to med school together, though residency had separated them. Jaycee was an OB and Maggie, a neurosurgeon. And … they had hidden in stairwells to cry all those years ago when med-school life was kicking their asses. Most of their fellow students and instructors were men. They refused to let the men see them cry.
Maggie gave a wet, burbly huff of laughter. "How'd you find me?" Maggie asked.
"How do you know you're not in my spot?"
"Because you're happily married and have a beautiful daughter?"
"And my hours suck, I'm sleep-deprived, have as many bad days as good and …" Jaycee sat down beside Maggie. "And at least my hormones are cooperating at the moment. Maggie, you're just taking call for someone, right? Just to stay ahead of the bills?"
"Since the practice shut down," Maggie said. "And since the lawsuit was filed."
"You need a break. You're recovering from a miscarriage and your hormones are wonky. You need to get away, especially away from the emergency room. Take some time off. Lick your wounds. Heal."
"He dumped me," Maggie said.
Jaycee was clearly shocked. "What?"
"He broke up with me. He said he couldn't take it anymore. My emotional behavior, my many troubles. He suggested professional help."
Jaycee was quiet. "I'm speechless," she finally said. "What a huge ass."
"Well, I was crying all the time," she said, sniffing some more. "If I wasn't with him, I cried when I talked to him on the phone. I thought I was okay with the idea of no children. I'm almost thirty-seven, I work long hours, I was with a good man who was just off a bad marriage and already had a child …"
"I'll give you everything but the good man," Jaycee said. "He's a doctor, for God's sake. Doesn't he know that all you've been through can take a toll? Remove all the stress and you still had the miscarriage! People tend to treat a miscarriage like a heavy period but it's a death. You lost your baby. You have to take time to grieve."
"Gospel," Maggie said, rummaging for a tissue and giving her nose a hearty blow. "I really felt it on that level. When I found out I was pregnant, it took me about fifteen minutes to start seeing the baby, loving her. Or him."
"Not to beat a dead horse, but you have some hormone issues playing havoc on your emotions. Listen, shoot out some emails tonight. Tell the ones on the need-to-know list you're taking a week or two off."
"No one knows about the pregnancy but you and Andrew." "You don't have to explain—everyone knows about your practice, your ex-partners, the lawsuit. Frankly, your colleagues are amazed you're still standing. Get out of town or something. Get some rest."
"You might be right," Maggie said. "These cement stairwells are killing me."
Jaycee put an arm around her. "Just like old times, huh?"
The last seven or eight miles to Sullivan's Crossing was nothing but mud, and Maggie's cream-colored Toyota SUV was coated up to the windows. This was not exactly a surprise. It had rained all week in Denver, now that she thought about it. March was typically the most unpredictable and sloppiest month of the year, especially in the mountains. If it wasn't rain it could be snow. But Maggie had had such a lousy year the weather barely crossed her mind.
Last year had produced so many medical, legal and personal complications that her practice had shut down a few months ago. She'd been picking up work from other practices, covering for doctors on call here and there and working ER Level 1 Trauma while she tried to figure out how to untangle the mess her life had become. This, on her best friend and doctor's advice, was a much needed break. After sending a few emails and making a few phone calls she was driving to her dad's house.
She knew she was probably suffering from depression. Exhaustion and general misery. It would stand to reason. Her schedule could be horrific, and the tension had been terrible lately. It was about a year ago that two doctors in her practice had been accused of fraud and malpractice and suspended from seeing patients pending an investigation that would very likely lead to a trial. Even though she had no knowledge of the incidents, there was a scandal, and it stank on her. There'd been wild media attention, and she was left alone trying to hold a wilting practice together. Then the parents of a boy who died from injuries sustained in a terrible car accident while on her watch filed a wrongful death suit. Against her.
It seemed impossible fate could find one more thing to stack on her already teetering pile of troubles. Hah. Never challenge fate. Hah. She found out she was pregnant.
It was an accident, of course. She'd been seeing Andrew for a couple of years. She lived in Denver and he in Aurora, since they both had demanding careers, and they saw each other when they could—a night here, a night there. When they could manage a long weekend, it was heaven. She wanted more, but Andrew was an ER doctor and also the divorced father of an eight-year-old daughter. But they had constant phone contact. Multiple texts and emails every day. She counted on him; he was her main support.
Maggie wasn't sure she'd ever marry and have a family, but she was happy with her surprise. It was the one good thing in a bad year. Andrew, however, was not happy. He was still in divorce recovery, though it had been three years. He and his ex still fought about support and custody and visits. Maggie didn't understand why. Andrew didn't seem to know what to do with his daughter when he had her. He immediately suggested terminating the pregnancy. He said they could revisit the issue in a couple of years if it turned out to be that important to her and if their relationship was thriving.
She couldn't imagine terminating. Just because Andrew was hesitant? She was thirty-six! How much time did she have to revisit the issue?
Although she hadn't told Andrew, she decided she was going to keep the baby, no matter what that meant for their relationship.
Then she had a miscarriage.
Grief-stricken and brokenhearted, she sank lower. Exactly two people knew about the pregnancy and miscarriage—Andrew and Jaycee. Maggie cried gut-wrenching tears every night. Sometimes she couldn't even wait to get home from work and started crying the second she pulled the car door closed. And there were those stairwell visits. She cried on the phone to Andrew; cried in his arms as he tried to comfort her, all the while knowing he was relieved.
And then he'd said, "You know what, Maggie? I just can't do it anymore. We need a time-out. I can't prop you up, can't bolster you. You have to get some help, get your emotional life back on track or something. You're sucking the life out of me, and I'm not equipped to help you."
"Are you kidding me?" she had demanded. "You're dropping me when I'm down? When I'm only three weeks beyond a miscarriage?"
And in typical Andrew fashion he had said, "That's all I got, baby."
It was really and truly the first moment she had realized it was all about him. And that was pretty much the last straw.
She packed a bunch of suitcases. Once she got packing, she couldn't seem to stop. She drove southwest from Denver to her father's house, south of Leadville and Fairplay, and she hadn't called ahead. She did call her mother, Phoebe, just to say she was going to Sully's and she wasn't sure how long she'd stay. At the moment she had no plan except to escape from that life of persistent strain, anxiety and heartache.
It was early afternoon when she drove up to the country store that had been her great-grandfather's, then her grandfather's, now her father's. Her father, Harry Sullivan, known by one and all as Sully, was a fit and hardy seventy and showed no sign of slowing down and no interest in retiring. She just sat in her car for a while, trying to figure out what she was going to say to him. How could she phrase it so it didn't sound like she'd just lost a baby and had her heart broken?
Beau, her father's four-year-old yellow Lab, came trotting around the store, saw her car, started running in circles barking, then put his front paws up on her door, looking at her imploringly.
Frank Masterson, a local who'd been a fixture at the store for as long as Maggie could remember, was sitting on the porch, nursing a cup of coffee with a newspaper on his lap. One glance told her the campground was barely occupied—only a couple of pop-up trailers and tents on campsites down the road toward the lake.
She saw a man sitting outside his tent in a canvas camp chair, reading. She had expected the sparse population—it was the middle of the week, middle of the day and the beginning of March, the least busy month of the year.
Frank glanced at her twice but didn't even wave. Beau trotted off, disappointed, when Maggie didn't get out of the car.
She still hadn't come up with a good entry line. Five minutes passed before her father walked out of the store, across the porch and down the steps, Beau following. She lowered the window. "Hi, Maggie," he said, leaning on the car's roof. "Wasn't expecting you."
"It was spur-of-the-moment."
He glanced into her backseat at all the luggage. "How long you planning to stay?"
She shrugged. "Didn't you say I was always welcome? Anytime?"
He smiled at her. "Sometimes I run off at the mouth."
"I need a break from work. From all that crap. From everything."
"Understandable. What can I get you?"
"Is it too much trouble to get two beers and a bed?" she asked, maybe a little sarcastically.
"Coors okay by you?"
"Sure."
"Go on and park by the house. There's beer in the fridge, and I haven't sold your bed yet."
"That's gracious of you," she said.
"You want some help to unload your entire wardrobe?" he asked.
"Nope. I don't need much for now. I'll take care of it."
"Then I'll get back to work and we'll meet up later."
"Sounds like a plan," she said.
Maggie dragged only one bag into the house, the one with her toothbrush, pajamas and clean jeans. When she was a little girl and both her parents and her grandfather lived on this property, she had been happy most of the time. The general store, the locals and campers, the mountains, lake and valley, wildlife and sunshine kept her constantly cheerful. But the part of her that had a miserable mother, a father who tended to drink a little too much and bickering parents had been forlorn. Then, when she was six, her mother had had enough of hardship, rural living, driving Maggie a long distance to a school that Phoebe found inadequate. Throw in an unsatisfactory husband and that was all she could take. Phoebe took Maggie away to Chicago.
Maggie didn't see Sully for several years, and her mother married Walter Lancaster, a prominent neurosurgeon with lots of money. Maggie had hated it all. Chicago, Walter, the big house, the private school, the blistering cold and concrete landscape. She hated the sound of traffic and emergency vehicles. One thing she could recall in retrospect, it brought her mother to life. Phoebe was almost entirely happy, the only smudge on her brightness being her ornery daughter. They had switched roles.
By the time Maggie was eleven she was visiting her dad regularly—first a few weekends, then whole months and some holidays. She lived for it, and Phoebe constantly held it over her. Behave yourself and get good grades, and you'll get to spend the summer at that god-awful camp, eating worms, getting filthy and risking your life among bears.
"Why didn't you fight for me?" she had continually asked her father.
"Aw, honey, Phoebe was right, I wasn't worth a damn as a father, and I just wanted what was best for you. It wasn't always easy, neither," he'd explained.
Sometime in junior high Maggie had made her peace with Walter, but she chose to go to college in Denver, near Sully.
Phoebe's desire was that she go to a fancy Ivy League college. Med school and residency were a different story—it was tough getting accepted at all, and you went to the best career school and residency program that would have you. She ended up in Los Angeles. Then she did a fellowship with Walter, even though she hated going back to Chicago. But Walter was simply one of the best. After that she joined a practice in Denver, close to her dad and the environment she loved.
A year later, with Walter finally retired from his practice and enjoying more golf, Phoebe and Walter moved to Golden, Colorado, closer to Maggie. Walter was also seventy, like Sully. Phoebe was a vibrant, social fifty-nine. Maggie thought she was possibly closer to Walter than to Phoebe, especially as they were both neurosurgeons. She was grateful. After all, he'd sent her to good private schools even when she did every terrible thing she could to show him how unappreciated his efforts were. She had been a completely ungrateful brat about it. But Walter turned out to be a kind, classy guy. He had helped a great many people who proved to be eternally grateful, and Maggie had been impressed by his achievements. Plus, he mentored her in medicine.
Loving medicine surprised her as much as anyone. Sully had said, "I think it's a great idea. If I was as smart as you and some old coot like Walter was willing to pick up the tab, I'd do it in a New York minute."
Maggie found she loved science, but med school was the hardest thing she'd ever taken on, and most days she wasn't sure she could make it through another week. She could've just quit, done a course correction or flunked out, but no—she got perfect grades along with anxiety attacks. But the second they put a scalpel in her hand, she'd found her calling.
She sat on Sully's couch, drank two beers, then lay down and pulled the throw over her. Beau pushed in through his doggy door and lay down beside the couch. The window was open, letting in the crisp, clean March air, and she dropped off to sleep immediately to the rhythmic sound of Sully raking out a trench behind the house. She started fantasizing about summer at the lake but before she woke she was dreaming of trying to operate in a crowded emergency room where everyone was yelling, bloody rags littered the floor, people hated each other, threw instruments at one another and patients were dying one after another. She woke up panting, her heart hammering. The sun had set, and a kitchen light had been turned on, which meant Sully had been to the house to check on her.
There was a sandwich covered in plastic wrap on a plate. A note sat beside it. It was written by Enid, Frank's wife. Enid worked mornings in the store, baking and preparing packaged meals from salads to sandwiches for campers and tourists.
Welcome Home, the note said.
Maggie ate the sandwich, drank a third beer and went to bed in the room that was hers at her father's house.
She woke to the sound of Sully moving around and saw that it was not quite 5:00 a.m. so she decided to go back to sleep until she didn't have anxiety dreams anymore. She got up at noon, grazed through the refrigerator's bleak contents and went back to sleep. At about two in the afternoon the door to her room opened noisily, and Sully said, "All right. Enough is enough."
Sully's store had been built in 1906 by Maggie's great-grandfather Nathaniel Greely Sullivan. Nathaniel had a son and a daughter, married off the daughter and gave the son, Horace, the store. Horace had one son, Harry, who really had better things to do than run a country store. He wanted to see the world and have adventures, so he joined the Army and went to Vietnam, among other places, but by the age of thirty-three, he finally married and brought his pretty young wife, Phoebe, home to Sullivan's Crossing. They immediately had one child, Maggie, and settled in for the long haul.
All of the store owners had been called Sully, but Maggie was always called Maggie. The store had once been the only place to get bread, milk, thread or nails within twenty miles, but things had changed mightily by the time Maggie's father had taken it on. It had become a recreational facility—four one-room cabins, dry camp-sites, a few RV hookups, a dock on the lake, a boat launch, public bathrooms with showers, coin-operated laundry facilities, pic tables and grills. Sully had installed a few extra electrical outlets on the porch so people in tents could charge their electronics, and now Sully himself had satellite TV and Wi-Fi.
Sullivan's Crossing sat in a valley south of Leadville at the base of some stunning mountains and just off the Continental Divide Trail. The camping was cheap and well managed, the grounds were clean, the store large and well stocked. They had a post office; Sully was the postmaster. And now it was the closest place to get supplies, beer and ice for locals and tourists alike.
The people who ventured there ranged from hikers to bikers to cross-country skiers, boating enthusiasts, rock climbers, fishermen, nature lovers and weekend campers. Plenty of hikers went out on the trails for a day, a few days, a week or even longer. Hikers who were taking on the CDT or the Colorado Trail often planned on Sully's as a stopping point to resupply, rest and get cleaned up. Those hearties were called the thru-hikers, as the Continental Divide Trail was 3,100 miles long, while the Colorado Trail was almost 500, but the two trails converged for about 200 miles just west of Sully's. Thus Sully's was often referred to as the crossing.
People who knew the place referred to it as Sully's. Some of their campers were one-timers, never seen again, many were regulars within an easy drive looking for a weekend or holiday escape. They were all interesting to Maggie—men, women, young, old, athletes, wannabe athletes, scout troops, nature clubs, weirdos, the occasional creep—but the ones who intrigued her the most were the long-distance hikers, the thru-hikers. She couldn't imagine the kind of commitment needed to take on the CDT, not to mention the courage and strength. She loved to hear their stories about everything from wildlife on the trail to how many toenails they'd lost on their journey.
There were tables and chairs on the store's wide front porch, and people tended to hang out there whether the store was open or closed. When the weather was warm and fair, there were spontaneous gatherings and campfires at the edge of the lake. Long-distance hikers often mailed themselves packages that held dry socks, extra food supplies, a little cash, maybe even a book, first-aid items, a new lighter for their campfires, a fresh shirt or two. Maggie loved to watch them retrieve and open boxes they'd packed themselves—it was like Christmas.
Sully had a great big map of the CDT, Colorado Trail and other trails on the bulletin board in the front of the store; it was surrounded by pictures either left or sent back to him. He'd put out a journal book where hikers could leave news or messages. The journals, when filled, were kept by Sully, and had become very well-known. People could spend hours reading through them.
Sully's was an escape, a refuge, a gathering place or recreational outpost. Maggie and Andrew liked to come for the occasional weekend to ski—the cross-country trails were safe and well-marked. Occupancy was lower during the winter months, so they'd take a cabin, and Sully would never comment on the fact that they were sharing not just a room but a bed.
Before the pregnancy and miscarriage, their routine had been rejuvenating—they'd knock themselves out for a week or even a few weeks in their separate cities, then get together for a week-end or few days, eat wonderful food, screw their brains out, get a little exercise in the outdoors, have long and deep conversations, meet up with friends, then go back to their separate worlds. Andrew was shy of marriage, having failed at one and being left a single father. Maggie, too, had had a brief, unsuccessful marriage, but she wasn't afraid of trying again and had always thought Andrew would eventually get over it. She accepted the fact that she might not have children, coupled with a man who, right up front, declared he didn't want more.
"But then there was one on the way, and does he step up?" she muttered to herself as she walked into the store through the back door. "He complains that I'm too sad for him to deal with. The bastard."
"Who's the bastard, darling?" Enid asked from the kitchen. She stuck her head out just as Maggie was climbing onto a stool at the counter, and smiled. "It's so good to see you. It's been a while."
"I know, I'm sorry about that. It's been harrowing in Denver. I'm sure Dad told you about all that mess with my practice."
"He did. Those awful doctors, tricking people into thinking they needed surgery on their backs and everything! Is one of them the bastard?"
"Without a doubt," she answered, though they hadn't been on her mind at all.
Maggie said hopefully, though there was absolutely no indication it would.
At least it was civil. The DA had found no cause to indict her. But really, how much is one girl supposed to take? The event leading to the lawsuit was one of the most horrific nights she'd ever been through in the ER—five teenage boys in a catastrophic car wreck, all critical. She'd spent a lot of time in the stairwell after that one.
"I'm not worried," she lied. Then she had to concentrate to keep from shuddering.
"And that lawsuit against you," Enid reminded her, tsking.
"That'll probably go away,"
"Good for you. I have soup. I made some for your dad and Frank. Mushroom. With cheese toast. There's plenty if you're interested."
"Yes, please," she said.
"I'll get it." Enid went around the corner to dish it up.
The store didn't have a big kitchen, just a little turning around room. It was in the southwest corner of the store; there was a bar and four stools right beside the cash register. On the northwest corner there was a small bar where they served adult beverages, and, again, a bar and four stools. No one had ever wanted to attempt a restaurant, but it was a good idea to provide food and drink—campers and hikers tended to run out of supplies.
Sully sold beer, wine, soft drinks and bottled water in the cooler section of the store, but he didn't sell bottled liquor. For that matter, he wasn't a grocery store but a general store. Along with foodstuffs there were T-shirts, socks and a few other recreational supplies—rope, clamps, batteries, hats, sunscreen, first-aid supplies. For the mother lode you had to go to Timberlake, Leadville or maybe Colorado Springs.
In addition to tables and chairs on the porch, there were a few comfortable chairs just inside the front door where the potbellied stove sat. Maggie remembered when she was a little girl, men sat on beer barrels around the stove. There was a giant ice machine on the back porch. The ice was free.
Enid stuck her head out of the little kitchen. She bleached her hair blond but had always, for as long as Maggie could remember, had black roots. She was plump and nurturing, while her husband, Frank, was one of those grizzled, skinny old ranchers.
"Is that nice Dr. Mathews coming down on the weekend?" Enid asked.
"I broke up with him. Don't ever call him nice again," Maggie said. "He's a turd."
"Oh, honey! You broke up?"
"He said I was depressing," she said with a pout. "He can kiss my ass
"Well, I should say so! I never liked him very much, did I mention that?"
"No, you didn't. You said you loved him and thought we'd make handsome children together." She winced as she said it.
"Obviously I wasn't thinking," Enid said, withdrawing back into the kitchen. In a moment she brought out a bowl of soup and a thick slice of cheese toast. Her soup was cream of mushroom and it was made with real cream.
Maggie dipped her spoon into the soup, blew on it, tasted. It was heaven. "Why aren't you my mother?" she asked.
"I just didn't have the chance, that's all. But we'll pretend."
Maggie and Enid had that little exchange all the time, exactly like that. Maggie had always wanted one of those soft, nurturing, homespun types for a mother instead of Phoebe, who was thin, chic, active in society, snobby and prissy. Phoebe was cool while Enid was warm and cuddly. Phoebe could read the hell out of a menu, while Enid could cure anything with her chicken soup, her grandmother's recipe. Phoebe rarely cooked, and when she did it didn't go well. But lest Maggie completely throw her mother under the bus, she reminded herself that Phoebe had a quick wit, and though she was sarcastic and ironic, she could make Maggie laugh. She was devoted to Maggie and craved her loyalty, especially that Maggie liked her more than she liked Sully. She gave Maggie everything she had to give.
It wasn't Phoebe's fault they were not the things Maggie wanted. For example, Phoebe sent Maggie to an extremely good college-prep boarding school that had worked out on many levels, except that Maggie would have traded it all to live with her father. Foolishly, perhaps, but still … And while Phoebe would not visit Sully's campground under pain of death, she had thrown Maggie a fifty-thousand-dollar wedding that Maggie hadn't wanted. And Walter had given her and Sergei a trip to Europe for their honeymoon.
Maggie had appreciated the trip to Europe quite a lot. But she should never have married Sergei. She'd been very busy and distracted, and he was handsome, sexy—especially that accent! They'd looked so good together. She took him at face value and failed to look deeper into the man. He was superficial and not trustworthy. Fortunately, or would that be unfortunately, it had been blessedly short. Nine months.
"This is so good," Maggie said. "Your soup always puts me right."
"How long are you staying, honey?"
"I'm not sure. Till I get a better idea. Couple of weeks, maybe?"
Enid shook her head. "You shouldn't come in March. You should know better than to come in March."
"He's going to work me like a pack of mules, isn't he?"
"No question about it. Only person who isn't afraid to come around in March is Frank. Sully won't put Frank to work."
Frank Masterson was one of Sully's cronies. He was about the same age, while Enid was just fifty-five. Frank said he had had the foresight to marry a younger woman, thereby assuring himself a good caretaker for his old age. Frank owned a nearby cattle ranch that these days was just about taken over by his two sons, which freed up Frank to hang out around Sully's. Sometimes Sully would ask, "Why don't you just come to work with Enid in the morning and save the gas, since all you do is drink my coffee for free and butt into everyone's business?"
When the weather was cold he'd sit inside, near the stove. When the weather was decent he favored the porch. He wandered around, chatted it up with campers or folks who stopped by, occasionally lifted a heavy box for Enid, read the paper a lot. He was a fixture.
Enid had a sweet, heart-shaped face to go with her plump body. It attested to her love of baking. Besides making and wrapping sandwiches to keep in the cooler along with a few other lunchable items, she baked every morning—sweet rolls, buns, cookies, brownies, that sort of thing. Frank ate a lot of that and apparently never gained an ounce.
Maggie could hear Sully scraping out the gutters around the store. Seventy and up on a ladder, still working like a farmhand, cleaning the winter detritus away. That was the problem with March—a lot to clean up for the spring and summer.
She escaped out to the porch to visit with Frank before Sully saw her sitting around and put her to work.
"What are you doing here?" Frank asked.
"I'm on vacation," she said.
"Hmm. Damn fool time of year to take a vacation. Ain't nothing to do now. Dr. Mathews comin'?"
"No. We're not seeing each other anymore."
"Hmm. That why you're here during mud season? Lickin' your wounds?"
"Not at all. I'm happy about it."
"Yup. You look happy, allright."
I might be better off cleaning gutters, she though. So she turned the conversation to politics, because she knew Frank had some very strong opinions and she could listen rather than answer questions.
She spotted that guy again, the camper, sitting in his canvas camp chair outside his pop-up tent/trailer under a pull-out awning. His legs were stretched out, and he was reading again. She noticed he had long legs.
She was just about to ask Frank how long that guy had been camping there when she noticed someone heading up the trail toward the camp. He had a big backpack and walking stick and something strange on his head. Maggie squinted. A bombardier's leather helmet with ear laps?
"Frank, look at that," she said, leaning forward to stare.
The man was old, but old wasn't exactly rare. There were a lot of senior citizens out on the trails, hiking, biking, skiing. In fact, if they were fit at retirement, they had the time and means. As the man got closer, age was only part of the issue.
"I best find Sully," Frank said, getting up and going into the store.
As the man drew near it was apparent he wore rolled-up dress slacks, black socks and black shoes that looked like they'd be shiny church or office wear once the mud was cleaned off. And on his head a weird WWII aviator's hat. He wore a ski jacket that looked to be drenched and he was flushed and limping.
Sully appeared on the porch, Beau wagging at his side, Frank following. "What the hell?"
"Yeah, that's just wrong," Maggie said.
"Ya think?" Sully asked. He went down the steps to approach the man, Maggie close on his heels, Frank bringing up the rear and Enid on the porch waiting to see what was up.
"Well, there, buddy," Sully said, his hands in his pockets. "Where you headed?"
"Is this Camp Lejeune?"
Everyone exchanged glances. "Uh, that would be in North Carolina, son," Sully said, though the man was clearly older than Sully. "You're a little off track. Come up on the porch and have a cup of coffee, take off that pack and wet jacket. And that silly hat, for God's sake. We need to make a phone call for you. What are you doing out here, soaking wet in your Sunday shoes?"
"Maybe I should wait a while, see if they come," the man said, though he let himself be escorted to the porch.
"Who?" Maggie asked.
"My parents and older brother," he said. "I'm to meet them here."
"Bet they have 'em some real funny hats, too," Frank muttered.
"Seems like you got a little confused," Sully said. "What's your name, young man?"
"That's a problem, isn't it? I'll have to think on that for a while."
Maggie noticed the camper had wandered over, curious. Up close he was distracting. He was tall and handsome, though there was a small bump on the bridge of his nose. But his hips were narrow, his shoulders wide and his jeans were torn and frayed exactly right. They met glances. She tore her eyes away.
"Do you know how you got all wet? Did you walk through last night's rain? Sleep in the rain?" Sully asked.
"I fell in a creek," he said. He smiled though he also shivered.
"On account a those shoes," Frank pointed out. "He slipped cause he ain't got no tread."
"Well, there you go," Maggie said. "Professor Frank has it all figured out. Let's get that wet jacket off and get a blanket. Sully, you better call Stan the Man."
"Will do."
"Anyone need a hand here?" Maggie heard the camper ask.
"Can you grab the phone, Cal?" Sully asked.
Sully put the man in what had been Maggie's chair and started peeling off his jacket and outer clothes. He leaned the backpack against the porch rail, and within just seconds Enid was there with a blanket, cup of coffee and one of her bran muffins. Cal brought the cordless phone to the porch. The gentleman immediately began to devour that muffin as Maggie looked him over.
"Least he'll be reg'lar," Frank said, reclaiming his chair.
Maggie crouched in front of the man and while speaking very softly, she asked if she could remove the hat. Before quite getting permission she pulled it gently off his head to reveal wispy white hair surrounding a bald dome. She gently ran her fingers around his scalp in search of a bump or contusion. Then she pulled him to his feet and ran her hands around his torso and waist.
"You must've rolled around in the dirt, sir," she said. "I bet you're ready for a shower."
He didn't respond.
"Sir? Anything hurt?" she asked him.
He just shook his head.
"Can you smile for me? Big, wide, smile?" she asked, checking for the kind of paralysis caused by a stroke.
"Where'd you escape from, young man?" Sully asked him. "Where's your home?"
"Wakefield, Illinois," he said. "You know it?"
"Can't say I do," Sully said. "But I bet it's beautiful. More beautiful than Lejeune, for sure."
"Can I have cream?" he asked, holding out his cup.
Enid took it. "Of course you can, sweetheart," she said. "I'll bring it right back."
In a moment the gentleman sat with his coffee with cream, shivering under a blanket while Sully called Stan Bronoski. There were a number of people Sully could have reached out to—a local ranger, state police aka highway patrol, even fire and rescue. But Stan was the son of a local rancher and was the police chief in Timberlake, just twenty miles south and near the interchange. It was a small department with a clever deputy who worked the internet like a pro, Officer Paul Castor.
Beau gave the old man a good sniffing, then moved down the stairs to Cal, who automatically began petting him.
Sully handed the phone to Maggie. "Stan wants to talk to you."
"He sounds like someone who wandered off," Stan said to Maggie. "But I don't have any missing persons from nearby. I'll get Castor looking into it. I'm on my way. Does he have any ID on him?"
"We haven't really checked yet," Maggie said into the phone. "Why don't I do that while you drive. Here's Sully."
Maggie handed the phone back to her dad and said, "Pass the time with Stan while I chat with this gentleman."
Maggie asked the man to stand again and deftly slid a thin wallet out of his back pocket. She urged him to sit and opened it up.
"Well, now," she said. "Mr. Gunderson? Roy Gunderson?"
"Hmm?" he said, his eyes lighting up a bit.
Sully repeated the name into the phone to Stan.
"And so, Roy, did you hurt anything when you fell?" Maggie asked.
He shook his head and sipped his coffee. "I fell?" he finally asked.
Maggie looked at Sully, lifting a questioning brow.
"A Mr. Gunderson from Park City, Utah," Sully said. "Wandered off from his home a few days ago. On foot."
"He must've gotten a ride or something," Cal said.
"His driver's license, which was supposed to be renewed ten years ago, says his address is in Illinois."
"Stan says he'll probably have more information by the time he gets here, but this must be him. Dementia, he says."
"You can say that again," Maggie observed. "I can't imagine what the last few days have been like for him. He must have been terrified."
"He look terrified to you?" Frank asked. "He might as well be on a cruise ship."
"Tell Stan we'll take care of him till he gets here."
Maggie went about the business of caring for Mr. Gunderson, getting water and a little soup into him while the camper, Cal, chatted with Sully and Frank, apparently well-known to them. When this situation was resolved she meant to find out more about him, like how long he'd been here.
She took off Roy's shoes and socks and looked at his feet— no injuries or frostbite but some serious swelling and bruised toenails. She wondered where he had been and how he'd gotten the backpack. He certainly hadn't brought it from home or packed it himself. That would be too complicated for a man in his condition. It was a miracle he could carry it!
Two hours later, the sun lowering in the sky, an ambulance had arrived for Roy Gunderson. He didn't appear to be seriously injured or ill but he was definitely unstable, and Stan wasn't inclined to transport him alone. He could bolt, try to get out of a moving car or interfere with the driver, although Stan had a divider cage in his police car.
What Maggie and Sully had learned, no thanks to  Roy himself, was that he'd been cared for at home by his wife, wandered off without his GPS bracelet, walked around a while before coming upon a rather old Chevy sedan with the keys in the ignition, so he must have helped himself. The car was reported stolen from near his house but had no tracking device installed. And since Mr. Gunderson hadn't driven in years, no one put him with the borrowed motor vehicle for a couple of days.
The car was found abandoned near Salt Lake City with Roy's jacket in it. From there the old man had probably hitched a ride. His condition was too good to have walked for days. Roy was likely left near a rest stop or campgrounds where he helped himself to a backpack. Where he'd been, what he'd done, how he'd survived was unknown.
The EMTs were just about to load Mr. Gunderson into the back of the ambulance when Sully sat down on the porch steps with a loud huff.
"Dad?" Maggie asked.
Sully was grabbing the front of his chest. Over his heart. He was pale as snow, sweaty, his eyes glassy, his breathing shallow and ragged.
"Dad!" Maggie shouted.
© Reprinted by permission. All rights reserved.
Keep Reading
back to Top