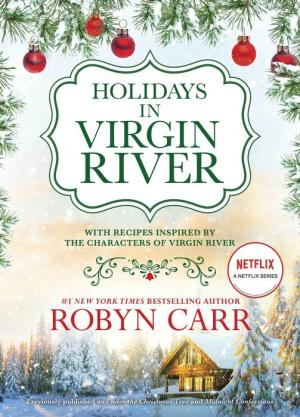 Virgin River
October 4, 2022
Mira Hardcover, eBook
Holidays in Virgin River
Create your own Virgin River holiday traditions with recipes inspired by the characters in this charming mountain town!
Under the Christmas Tree (Virgin River book #8)
With snow falling over the redwood forests, secluded Virgin River is the ideal place to spend the holidays. Each year, the close-knit community gathers in the town square to decorate and light a massive tree. Carols are sung, hot chocolate is shared—and this year, a surprise is about to bring two special people together. When the townsfolk discover a box of adorable puppies under the town's Christmas tree, they call on local vet Nathaniel Jensen for help. But it's his budding romance with Annie McCarty that really has tongues—and tails—wagging!
Midnight Confessions (Virgin River book #12)
In Virgin River, holiday kisses don't end with Christmas—there's still the New Year's Eve party at Jack's Bar to attend. Locals and newcomers alike find themselves eager for that special countdown…and that midnight kiss.
As the townspeople gather, two lonely revelers decide the best balm for their broken hearts might just be each other.
Anthology containing reissued Virgin River books #8 and #12 plus recipes inspired by the characters of Virgin River.