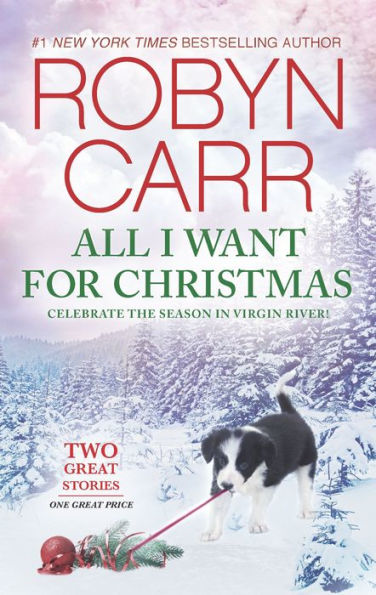 Virgin River
Box Set
October 16, 2018
MIRA Mass Market Paperback
All I Want for Christmas
Return to Virgin River for the holidays with these two stories from the beloved series by New York Times bestselling author Robyn Carr.
A Virgin River Christmas
(originally published November 2008 and reissued November 2013 in mass market paperback and September 2018 in eBook)
Last Christmas Marcie Sullivan said a final goodbye to her husband. This Christmas she's come to Virgin River to find the man who saved his life and gave her three more years to love him.
Marcie tracks Ian Buchanan to the tiny mountain town and, as she pushes her way into his rugged and reclusive life, she discovers a sweet but damaged soul beneath a rough exterior.
Ian doesn't know what to make of the determined young widow who forces him to look into the painful past and, what's worse, the uncertain future. But it is, after all, a season of miracles, and maybe, just maybe, it's time to banish the ghosts and open his heart.
Under the Christmas Tree
(originally published October 2009 within That Holiday Feeling anthology in mass market paperback; June 2012 in eBook; Novemer 2014 within 'Tis the Season anthology in mass market paperback and eBook; and November 2015 and November 2017 as a standalone eBook)
With snow falling over the redwood forests, secluded Virgin River is the ideal place to spend the holidays. Each year, the close-knit community gathers in the town square to decorate and light a massive tree. Carols are sung, hot chocolate is shared—and this year, a surprise is about to bring two special people together. When the townsfolk discover a box of adorable puppies under the town's Christmas tree, they call local vet Nathaniel Jensen for help. But it's his budding romance with Annie McCarty that really has tongues—and tails—wagging!