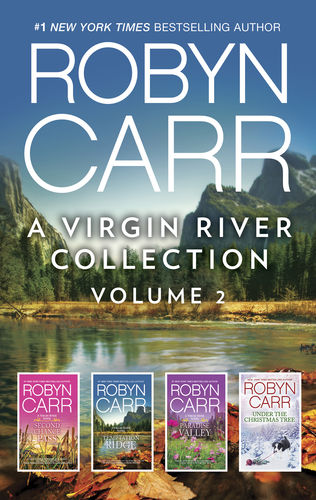 Virgin River
Box Set
June 11, 2018 eBook
A Virgin River Collection Volume 2
Now available in a box set collection, return to Virgin River with these beloved stories form #1 New York Times bestselling author Robyn Carr.
Second Chance Pass
(originally published February 2009 and reissued April 2010 in mass market paperback)
Vanessa Rutledge's new baby is helping heal her heart after the death of her husband. She longs to share this love with former Marine Paul Haggerty, her husband's best friend, but he's keeping his distance. The good folks of Virgin River might have to meddle to get these two to realize they both deserve a second chance.
Temptation Ridge
(originally published March 2009 in mass market paperback)
Shelby McIntyre's plans for her newfound freedom include finding Mr. Right—and everything she wants in a man is essentially the opposite of what she gets in rugged Luke Riordan. The jaded, battle-scared army pilot is all wrong for her, but sometimes what you want and what you need are two different things.
Paradise Valley
(originally published April 2009 in mass market paperback)
Marine Corporal Rick Sudder is home early from Iraq, and must reconcile his past life in Virgin River with the man he is now. Can Liz, who never gave up on him, help him mend his broken body and shattered heart?
Under the Christmas Tree
(originally published October 2009 within That Holiday Feeling anthology in mass market paperback; June 2012 in eBook; Novemer 2014 within 'Tis the Season anthology in mass market paperback and eBook; and November 2017 as a standalone eBook)
When the folks of Virgin River discover a box of adorable puppies under the town's Christmas tree, they call on local vet Nathaniel Jensen for help. But it's his budding romance with Annie McCarty that really has tongues—and tails—wagging!
Four moving stories of forgiveness, new beginnings, and the power of love to heal…