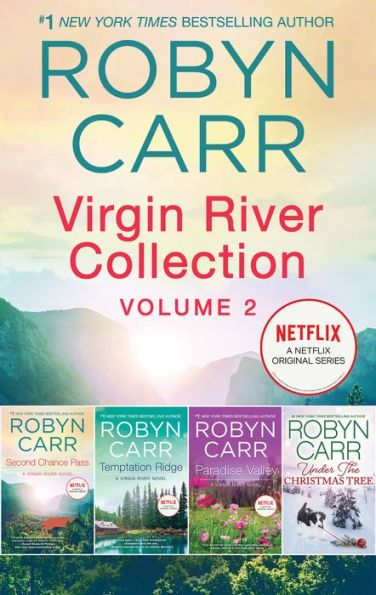 Virgin River
Box Set
April 12, 2021
Mira eBook
Virgin River Collection Volume 2
MIRA brings you four stories in one collection! Welcome back to Virgin River, a remote mountain town that might be the perfect place to start fresh. Now a Netflix Original Series.
This box set includes:
SECOND CHANCE PASS (A Virgin River Novel Book 5)
Vanessa Rutledge's new baby is helping heal her heart after the death of her husband. She longs to share this love with former Marine Paul Haggerty, her husband's best friend, but he's keeping his distance. The good folks of Virgin River might have to meddle to get these two to realize they both deserve a second chance.
TEMPTATION RIDGE (A Virgin River Novel Book 6)
Shelby McIntyre's plans for her newfound freedom include finding Mr. Right—and everything she wants in a man is essentially the opposite of what she gets in rugged Luke Riordan. The jaded, battle-scared army pilot is all wrong for her, but sometimes what you want and what you need are two different things.
PARADISE VALLEY (A Virgin River Novel Book 7)
Marine Corporal Rick Sudder is home early from Iraq, and must reconcile his past life in Virgin River with the man he is now. Can Liz, who never gave up on him, help him mend his broken body and shattered heart?
UNDER THE CHRISTMAS TREE (A Virgin River Novella Book 8)
When the folks of Virgin River discover a box of adorable puppies under the town's Christmas tree, they call on local vet Nathaniel Jensen for help. But it's his budding romance with Annie McCarty that really has tongues—and tails—wagging!
Read the Virgin River Series by Robyn Carr:
Book One: Virgin River
Book Two: Shelter Mountain
Book Three: Whispering Rock
Book Four: A Virgin River Christmas
Book Five: Second Chance Pass
Book Six: Temptation Ridge
Book Seven: Paradise Valley
Book Eight: Forbidden Falls
Book Nine: Angel's Peak
Book Ten: Moonlight Road
Book Eleven: Promise Canyon
Book Twelve: Wild Man Creek
Book Thirteen: Harvest Moon
Book Fourteen: Bring Me Home for Christmas
Book Fifteen: Hidden Summit
Book Sixteen: Redwood Bend
Book Seventeen: Sunrise Point
Book Eighteen: My Kind of Christmas
Book Nineteen: Return to Virgin River
Virgin River Collection Volume 2 was originally published June 11, 2018 in eBook as A Virgin River Collection Volume 2.