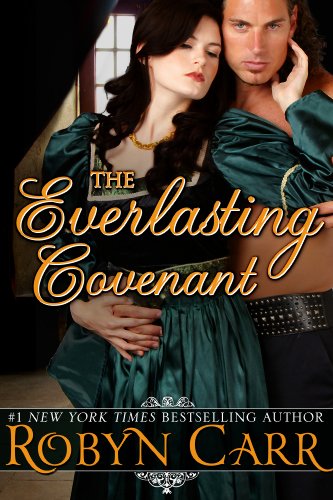 November 25, 2012
Liza Dawson Associates Trade Size
The Everlasting Covenant
Anne Gifford's dowry—or lack thereof—is of no concern to Sir Dylan DeFrayne. Wrapped in each other's arms, what more could they possibly need? Yet the young lovers' passion can never be sanctioned — the DeFraynes and Giffords have been sworn enemies for decades. Lest more blood be shed, the two must keep their affair a secret…and plot their elopement.
Clad in threadbare hand-me-downs, Anne never expects the powerful and aged Brennan Forbes to remember her face, let alone propose marriage. Anne's parents hastily accept—the union aligns the Giffords with the Duke of York, while the DeFraynes pledge allegiance to the House of Lancaster, on the eve of the War of Roses.
The arranged marriage looming ever closer, Dylan must brave the battlefield and bypass enemy lines to rescue his beloved. With a dynastic war and bitter rivalries standing in their way, Anne and Dylan must embark on a tortuous path that only the strongest of loves can endure.
Set in 15th century England, THE EVERLASTING COVENANT is an irresistible mix of danger and passion, guaranteed to ensnare readers.
Originally published July 1987.