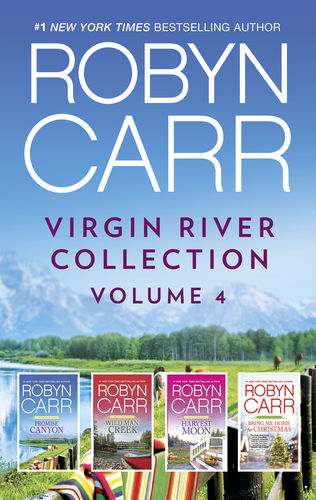 Virgin River
Box Set
July 30, 2018 eBook
Virgin River Collection Volume 4
Welcome back to Virgin River! Now available in a box set collection, return to this charming small town with more beloved stories form #1 New York Times bestselling author Robyn Carr.
Promise Canyon
(originally published January 2011 in mass market paperback and reissued May 2015 in mass market paperback and eBook)
After years spent on ranches around Los Angeles, Clay Tahoma is delighted to be Virgin River's new veterinary assistant. He's been welcomed with open arms by everyone in town—everyone except Lilly Yazhi. Lilly has encountered her share of strong, silent, traditional men. In her eyes, Clay's earthy appeal is just an act used to charm wealthy women like his ex-wife. Lilly can't deny his gift for gentling horses, but she's not about to let him control her. There's just one small problem—she can't control her attraction to Clay.
Wild Man Creek
(originally published February 2011 in mass market paperback and reissued October 2015 in mass market paperback and eBook)
Colin Riordan is recuperating from a horrific helicopter crash, the scars of which he bears inside and out. His family is supportive, but it's his art that truly soothes his troubled soul. Stung personally and professionally by an ill-advised affair, PR guru Jillian Matlock has rented an old Victorian with a promising garden. She's looking forward to cultivating something other than a corporate brand. Both are looking to simplify, not complicate, their lives, but when Jillian finds Colin at his easel in her yard, there's an instant connection. And sometimes love is the simplest choice of all…
Harvest Moon
(originally published March 2011 in mass market paperback and reissued January 2016 in mass market paperback and eBook)
Disillusioned and burned out after collapsing at work, rising sous-chef Kelly Matlock has retreated to her sister's house to rest and reevaluate. Puttering in the garden is wonderful, but Kelly's starting to get restless…until she meets Lief Holbrook. The handsome widower looks more like a lumberjack than a sophisticated screenwriter—a combination Kelly finds irresistible. Less appealing is Lief's rebellious teenaged stepdaughter. She's the reason they moved from LA, but she's still finding plenty of trouble. Kelly's never fallen for a guy with such serious baggage, but some things are worth fighting for.
Bring Me Home for Christmas
(originally published November 2011 in mass market paperback and reissued November 2015 in mass market paperback and eBook)
This year, Becca Timm knows the number one item on her wish list—getting over Denny Cutler, who broke her heart three years ago. So she invites herself on her brother's hunting weekend in the rugged little mountain town that Denny calls home. But when an accident turns her impromptu visit into an extended stay, Becca finds herself stranded. With Denny. In very close quarters. As the power of Christmas envelops them, Becca discovers that the boy she once loved has become a strong and confident man. And the most delicious Christmas present she can imagine.
Four wonderful stories of finding home and discovering love.