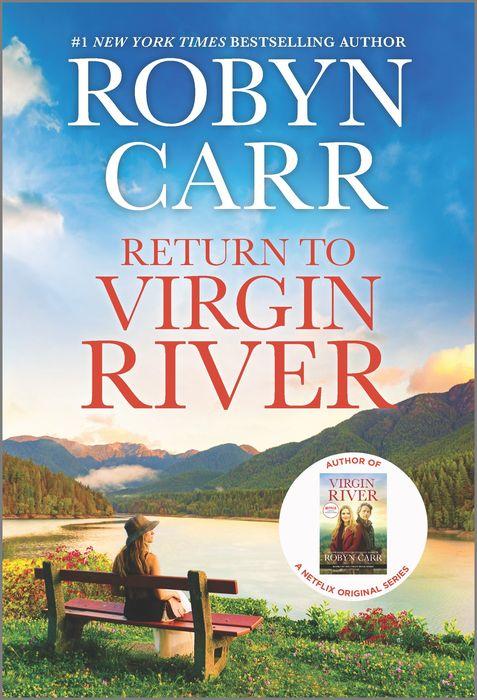 Virgin River Book #21
September 27, 2022
Mira Hardcover, eBook, Trade Paperback, Audio
Return to Virgin River
"Carr is a master of charming small-town ambience." —Publishers Weekly
Kaylee Sloan has wonderful memories of the woman who raised her. But the memories are prolonging her grief over her mother's recent death. A successful author, Kaylee hoped she could pour herself into her work. Instead, she has terrible writer's block and a looming deadline.
To escape distractions, Kaylee borrows a cabin in Virgin River. She knows the isolation will help her writing, and as she drives through the majestic redwoods, she feels inspired. Until she arrives at a building that has just gone up in flames. Devastated, she heads to Jack's Bar to plan her next steps. The local watering hole is the heart of the town, and once she crosses the threshold, she's surprised to be embraced by people who are more than willing to help a friend—or a stranger—in need.
Kaylee's world is expanding in ways she never dreamed possible. And when she rescues a kitten followed by a dog with a litter of puppies, she finds her heart opening up to the animals who need her. And then there's the dog trainer who knows exactly how to help her. As Kaylee's grief turns to joy, she realizes there's no better place to start over than Virgin River.
First time in mass market paperback! Originally published October 2020 in hardcover and eBook.
Reviews
"Carr is a master of charming small-town ambience, and the 21st romance in her Virgin River series (after My Kind of Christmas) does not disappoint. Suspense novelist Kaylee Sloan leaves her Southern California home and heads up the coast to hunker down in remote Humboldt County, hoping the seclusion will offer her space to meet the deadline for her next book and mourn her late mother. Unfortunately, she arrives at her rental right as the fire trucks are leaving, finding it charred and uninhabitable. In steps handsome artist Landry Moore, who offers to rent Kaylee a small house on his property in the quaint town of Virgin River. Soon, Kaylee's setting suspense aside for romance, both literary and personal. But their budding relationship hits a bump when Landry's long-estranged wife arrives, wanting a second chance. Carr nails the sometimes-painful process of writing, painting Kaylee's work as one of the toughest and most rewarding of pursuits, while skillfully building passion between her hero and heroine. Longtime fans will relish glimpses of past favorite characters, who add depth and joy to this sweet romance. Fans and new readers alike will delight in visiting Virgin River." — Publishers Weekly (Reviewed on 09/25/2020)
Character Sketches
Kaylee Sloan—35-year-old well-known suspense novelist, runs away from the grief of losing her mom and heads to Virgin River to focus on her writing.
Landry Moore—handsome guesthouse owner and an artist/craftsman, part-time dog trainer
Meredith Sloan—Kaylee's mother diagnosed with lung cancer and passes away 6 months later.
Howard Sloan—Kaylee's estranged father
Gerald and Bonnie Templeton—old friends of Kaylee's mom that own the cabin that burns down in Virgin River
Laura—35-year-old actress, married Landry Moore eleven years ago
Mallory—ten-year-old daughter of Mel's cancer patient
Caroline and Landon—fictional characters in author Kaylee Sloan's work-in-progress
Tux—Black & white kitten Kaylee finds
Otis—Landry Moore's English setter
Lady– blonde lab mix, mother dog of four puppies