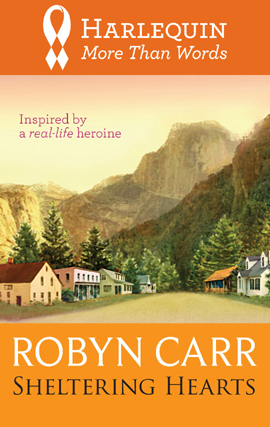 Harlequin Special Releases Novella
April 30, 2010
Sheltering Hearts
New York Times bestselling author Robyn Carr takes readers back to her beloved Virgin River country in this heartwarming tribute to Rhonda Clemons, founder of Zoë Institute and a winner of a Harlequin More Than Words award.
By discovering a seed of compassion and nurturing it to effect real change, the dedicated women selected as Harlequin More Than Words award recipients make our world a better place. To celebrate their accomplishments, bestselling authors have honored the winners by writing short stories inspired by their lives and work.
This special eBook is yours at no charge because Harlequin is committed to celebrating women's efforts and supporting the causes that are meaningful to them. By sharing Rhonda Clemons's story, we hope to turn awareness into action and mobilize others to make a difference.
Available in ebook (print copies no longer available)