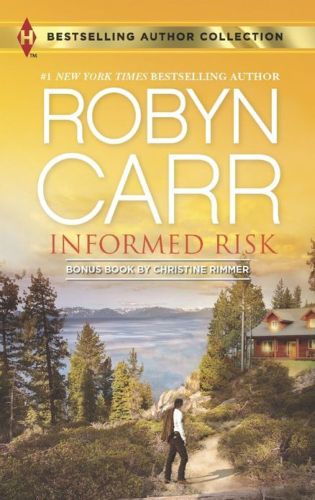 April 30, 2013
Harlequin Paperback
Informed Risk
Informed Risk by Robyn Carr
Playing with Fire
Mike Cavanaugh was a firefighter; it was his job to rescue people. Though inviting them home wasn't usually part of the job description. But when he pulled Christine Palmer out of her burning house, something about the gutsy single mom made him want to protect her, to make her life a little better. Only somehow Chris and her family ended up giving Mike's life new meaning, and he was happier than he'd been in years.
But Chris was smart and resourceful. She'd get back on her own two feet—sooner rather than later. And when she no longer needed Mike's support, would she still want his love?
Originally published March 1989 in Silhouette Special Edition #527.
Bonus book included: A Hero for Sophie Jones by Christine Rimmer (originally published September 1998 in Silhouette Special Edition #1196)
He was the kind of man her mama warned her about, workaday rancher Sophie B. Jones realized, as she looked up to find Sinclair Riker's unrelenting gaze on her. But resisting him was not an option, for though his words hinted at the darkness of his soul, his eyes spoke another message altogether—one that Sophie could not help but answer….
Sinclair knew better than to fall for an innocent like Sophie Jones. He knew that heartless seduction was supposed to be his stock-in-trade, and that he had come to the ranch with one purpose only—to do Sophie out of her beloved land, by any means possible. So what was it about this woman that had him yearning for the purity of her soul? And could love really turn Sin…into Sophie's saint?