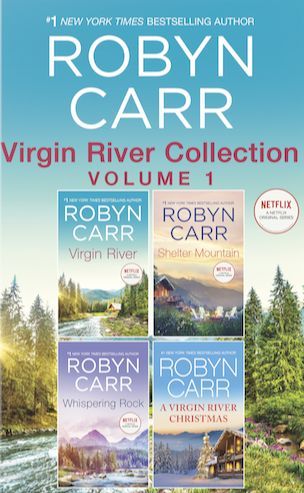 Virgin River
Box Set
March 2, 2020 eBook
Virgin River Collection Volume 1
Welcome back to Virgin River! Available in a box set, the first four stories in the acclaimed series from #1 New York Times bestselling author Robyn Carr. Discover a remote mountain town that might be the perfect place to start fresh. Now a Netflix Original Series.
Virgin River
(originally published April 2007 and reissued May 2010 and December 2012 in mass market paperback and October 2019 in eBook)
Nurse practitioner Melinda Monroe comes to town to escape her heartache, though nothing is what she expected. A tiny baby abandoned on a porch changes all her plans, and former marine Jack Sheridan cements them into place.
Shelter Mountain
(originally published May 2007 and reissued May 2010 and February 2013 in mass market paperback and February 2020 in eBook)
Paige Lassiter's sudden, desperate arrival stirs up protective instincts in John "Preacher" Middleton. She and her little boy clearly need help, and if there's one thing Preacher has learned, it's that some things are worth fighting for.
Whispering Rock
(originally published June 2007 and reissued March 2013 in mass market paperback and February 2020 in eBook)
When wounded former LAPD officer Mike Valenzuela agrees to become the town's first cop, he knows it's time he settled down. He's longing for commitment, and hopes he can help the tough Brie Sheridan to lose her fears and trust again.
A Virgin River Christmas
(originally published November 2008 and reissued November 2013 in mass market paperback and September 2018 in eBook)
Marcie Sullivan has finally found Ian Buchanan, a man she owes a special debt to. Maybe in this season of wonder, Ian can look into his painful past and open his heart to the uncertain future.
Virgin River Collection Volume 1 was originally published May 2018 in eBook.