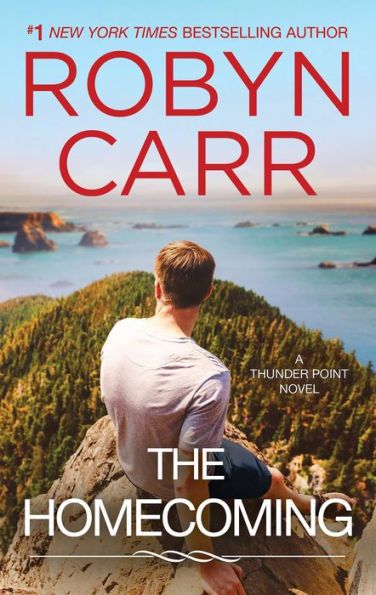 Thunder Point Book #6
November 11, 2019
MIRA eBook, Paperback, audio
The Homecoming
From the #1 New York Times bestselling author of the Virgin River series, book 6 in her beloved Thunder Point novels: a young man return home to a small Oregon town to face his mistakes—the first step in claiming the life he was meant to live.
At the age of nineteen, Seth Sileski had everything. A superb athlete and scholar, handsome and popular, he was the pride of Thunder Point. Destined for greatness, he lost it all in a terrible accident that put an end to his professional football career when it had barely begun. The people in his hometown have never forgotten what might have been.
Seth has come to terms with the turns his life has taken. But now he's been presented with an opportunity to return home and show his father—and the people of Thunder Point—he's become a better, humbler version of his former self.
Winning over his father isn't the only challenge. Seth must also find a way to convince his childhood neighbor and best friend, Iris McKinley, to forgive him for breaking her heart. With his homecoming, will Seth be able to convince the town, his family and especially Iris that he's finally ready to be the man who will make them all proud?
Originally published September 2014 in mass market paperback and eBook.
Excerpt
Chapter One
When Seth Sileski was a kid, Thunder Point had been his playground. From the time he'd been a freckle-faced, toe-headed little kid he'd held this town in the palm of his hand. He could run the fastest, hit the hardest, throw the farthest and charm the most cantankerous teachers. His two older brothers, Nick and Norm Junior, affectionately known as Boomer, had also had great childhoods in this little town, but almost nothing compared to Seth's notoriety. He went from beautiful kid to adored adolescent to most popular and accomplished teenager — great grades, superb athlete, handsome and a good and loyal friend. And then, at the age of twenty, his life took a dramatic turn and all that great luck and good fortune seemed to blow away.
Or, if you listened to his father, Norm Sileski, he threw it away.
So now he was back in Thunder Point, a little scarred and damaged but whole. And definitely humbled. He'd traveled a long way since leaving at the age of eighteen and if you'd told him five or ten years ago that he'd come home he'd have called you a lunatic. Yet here he was, and by choice. This time he was wearing a deputy's uniform. Thirty-four years old, his battle to regain a sense of pride and accomplishment had been mighty and difficult. Seth was taking over the Sheriff's Department Thunder Point substation from Mac McCain. He'd be the officer in charge while Mac moved to a lieutenant's position at the headquarters in Coquille.
Seth had been back to town fairly often over the last fifteen years. He visited his mother and at least tried to check in with his father. Every time he drove into this small coastal town he was surprised by how little the place had changed. People changed, the economy changed, the world changed and yet Thunder Point seemed to remain the same. The linoleum in the diner had been old and cracked when he was a boy, all the same fast food establishments were present, Wayland's Bar was still the only real dive in town and it looked no better. In fact, Wayland still held the door open with a paint can, as if he intended to paint the place. It hadn't happened yet.
It was the second week in September and school had resumed just a couple of weeks ago, so there was still a lot of optimism and excitement winding up the kids. Those on bikes weren't staying out of the middle of the road very well, but little whoop-whoop from the police SUV moved 'em over quick, followed by yelps of laughter and shenanigans.
He caught sight of Iris, his next door neighbor and childhood friend when he was growing up. She was still riding her bike to school, but now she wore a skirt with a briefcase in the basket. When the wind took her skirt it revealed tight, black bike shorts underneath. The kids raced her. The school buses passed her, tooted their horns and kids leaned out their windows to wave. She jingled the bell mounted on her handlebars and waved in response. She threw back her head and laughed as a bus driver laid on her horn for a long blast. She still had that wild, unrestrained laughter he remembered. Before she noticed him, he slowed down and turned off the main street, heading back to the substation to park.
The Sheriff's Department substation was fairly new. The department had always had a strong presence here as there was no local law enforcement, but the substation office was only about ten years old. The clinic next door was new so he made that one of his first stops. He walked into the clinic to face a beautiful woman standing in the reception area. She could be mistaken for Catherine Zeta Jones with her dark straight hair and black eyes.
"Hi," he said, smiling, putting out his hand. "I'm Seth Sileski and I'll be your new neighbor. Mac starts working in Coquille in about a week."
"Well, it's a pleasure," she said. "Peyton Lacoumette. And this is Devon Lawson, our office manager. Scott?" she yelled. "Do you have a minute?"
The doctor came to the front of the clinic wearing the native dress — blue jeans and denim shirt. "So, you're the new guy," he said with a smile.
Seth laughed and stuck out his hand. "I'm not exactly new. I grew up here. Norm Sileski is my dad."
"No kidding. Which one are you? He said he had three sons and none of them lived in town."
"I'm the youngest. I've only been back to visit since leaving for college."
"Then welcome back," Scott said. "We'll be glad to have you. And we're darn proud of Mac — moving up in the world."
"Those are going to be hard shoes to fill."
"Did you know Mac before now?" Peyton asked.
"Sure, from the department. I think I've known him eight years or so, though we worked in different parts of the county. He has a very good reputation. Before it's down to me — are there any needs you have or issues you're concerned about? Anything you want me to know?" He grinned. "As your neighbor and your cop?"
Scott chuckled. "Trash pick-up is Wednesday in the alley behind the stores. I'll have to think about anything else."
"Trash," Seth said. "Good to know. Let me ask you this — how do you get along with the youth in town? Any problems I should be aware of?"
Scott shook his head. "I had to stitch up some wild ones in at the ER in North Bend — a fight at an unsupervised party. I haven't dealt with any injuries caused by bad behavior around Thunder Point in the past year. Mac had some bullying issues before I opened up the clinic but I'm not sure of the details. I've just had the usual stuff and the kids around here are better than most."
"Strict parents, for the most part," Seth said. "And a nosy town in general."
"Do you have teenagers, Deputy?" Peyton asked.
He shook his head. "I'm not married and don't have kids, ma'am. Asking about the teenagers is just something I do when trying to get a profile on a new town. The town isn't new to me but the people are — the faces have changed after fifteen years. Right now I'm in orientation with Mac as my supervisor and part of the process is to introduce myself to the businesses. The stores haven't changed much but the owners, managers and employees have." He looked over his shoulder at the diner. "We used to go there after school and I hear Stu is still the owner and cook but now Gina is the head waitress. Gina's mom was the waitress in charge when I was a kid."
"And now Carrie has the deli next door and some of the best sandwiches and take-out dinners you'll find around here," Peyton said. "I haven't cooked in a long time."
"I'll stop in and say hello to both of them."
"What about Cliffhanger's?" Peyton asked. "Was Cliff the owner when you were growing up?"
Seth shook his head. "His dad built that place about twenty-five years ago. I'm not sure when Cliff took over. Sometime after I left. Cliff's family owns a lot of property around the marina. My dad used to say that place would never work here — too fancy for this town."
"It's full almost every night," Scott said. "It's where people around here go when they want a tablecloth."
"I've been in there once or twice," Seth said. "Good food, nice atmosphere. Listen, it's nice meeting all of you." He pulled out a business card. "I'm going to continue my rounds, but here's the office number and my personal cell. Feel free."
Peyton laughed and took the card. "It really kills me the way everyone gives out their cell numbers! Everyone knows Scott's and Mac's and now yours. I'm used to the city where you never do that."
The doctor put his arm around the PA's shoulders, gave a squeeze and said, "I have her cell number and with the right incentive, I can be talked into giving it to you. Until then, just call me if you need me. And I'll call you."
"Hey, if this is my town, I want to be called if there's a problem. There are three ways to reach me — the office, the cell or 911 in emergencies. If you call 911 you'll never get voicemail and whatever deputy is on duty will respond immediately. Don't hesitate." He smiled and gave them a little salute. "See you later."
Seth made his way to the diner to say hello to Gina. They'd known each other growing up, but they hadn't been in the same class or part of the same crowd. It was safe to say that he knew Carrie better; Carrie and his mother, Gwen, had been friends for years. He even went into Waylan's. Damn if it didn't look like the same crowd of old boys who had been in there the last time he stopped by at least ten years ago.
He headed for the flower shop which still bore the same name although the owner was relatively new. Pretty Petals had been owned by his next door neighbor when he was growing up, a single mother and Gwen's good friend, Rose McKinley. Rose's only child, Iris, had been Seth's best friend when they were kids. Iris sold the shop a few years ago after her mother had a stroke. Then Rose passed away after a couple of years of infirmity.
Seth talked to his mother at least once a week, usually more often, and she kept him current on the happenings in town. Rose's death had taken a toll on Gwen — they'd been close to the same age. Rose had died too young and it left Gwen feeling like she was living on borrowed time. Gwen was now sixty-five.
Norm, his dad, was seventy-two and just as cranky and unforgiving as ever. He might've sold the service station he'd owned for decades, but he wouldn't retire. He still worked for the new owner. Gwen wanted to spend some of their money and retirement doing fun things, traveling, maybe taking a cruise or two, but Norm wasn't at all interested. Why Gwen wanted to spend leisure time with the old coot was beyond Seth, but he felt sorry for her, sitting out her last years in the same small town, not having too much fun except for church, cards and bingo, missing her best friend, Rose.
He dropped in to Pretty Petals and took off his hat. He said hello to Grace, the owner. His mother had mentioned her several times. She was an attractive young woman about thirty years old or even younger, living the dream. She bought the flower shop from Iris and was thrilled to own her own business. Looking around he saw that it was updated since the old days.
"Well, Seth, are you back to stay?" she asked.
"I am for now. Just introducing myself to the folks in town, or re-introducing, as the case may be. How are things in the flower business?"
"Very pretty," she said.
"Anything you'd like me to be aware of now? I'm prepared to take over Mac's post in less than a week."
She shook her head. "No flower thefts that I'm aware of. Do you have any plans to move to town, now that you'll be here all the time?"
"Not at the moment." He laughed a little. "My mother offered me my old room but I think…" He ended by just shaking his head and Grace laughed with him. "It might not feel like a bachelor pad, living with Mom and Dad." Not to mention, Dad hadn't offered, he reminded himself. "But there's no question, I'd eat well!"
"Maybe you can just swing by Mom's at the end of your workday for a little something to eat before heading home to the bachelor pad."
"There's an idea. In fact, I should swing by there now…how about a nice arrangement to take along. That always makes her so happy with me."
Grace turned and pulled a centerpiece out of the cooler. "Do you like this fall arrangement? I can give it to you cheap — I worked it up a couple of days ago and it hasn't sold yet."
"I'm all over discounts," he said, fishing out his wallet. Without looking up he asked, "Have you seen Iris lately?"
"I see Iris every week. At least once, usually more. She likes fresh flowers in the house — it's a hard habit to break. Sometimes she comes in and makes her own arrangement. I can't tell you how often I wish she worked here — she's got a gift. That'll be ten dollars, even."
"Ten? Wow, you're sucking up to the law!" "I hope I never have to use my brownie points," she said. "Welcome back, Seth. It's nice to know you'll be taking care of us."
"I'll do my best. Be sure to let me know if I can help in any way. It won't be flower arranging, I know that." He gave her that same business card with all the numbers on it. Then he gave her a second one. "One for the shop, one for home." He secretly hoped that second card might make its way into Iris's hands.
It was Iris he'd really like to reconnect with. When they were kids, they'd been inseparable, playing kickball, softball, fishing, playing on the beach or sitting at one of their houses playing video games for hours. In junior high and high school they had other paths — he was on boy's teams and she was doing girl things, plus helping her mother in the flower shop from an early age, but she'd always been his closest friend even if he didn't admit that in mixed company. But he could tell Iris anything. Anything. If he had trouble in school, frustrations in football, couldn't get his homework right or even if he liked some girl and she wasn't liking him back. They talked on their porches, on the phone, anywhere they met around town. If their second story bedroom windows had faced each other's, they'd have been hanging out of them, talking.
Then there was some misunderstanding their senior year. Something to do with prom, but he didn't remember all the details. He obviously didn't remember them the way she did because that was the end of their friendship. She was angry that he wasn't taking her to the prom, but he was going steady with someone else and was expected to take his girlfriend. But he and the steady girlfriend had had a blow-up, a messy breakup, Seth had been bummed, had a few beers, and as usual leaned on Iris to talk about his girl problems. It was senior year, he'd had a spectacular year, was going to the University of Oregon on a full football scholarship in the fall and how dare that girl dump him right before senior prom. He could only vaguely remember, but he had uttered some lame thing to Iris like, I wish I was taking you, anyway. And then he got back together with the girlfriend the very next day. He thought Iris would be happy for him. He had expected Iris to understand — it had been a spat and they were all made up.
But Iris did not understand. There was something mysterious about girls and proms because he couldn't remember Iris ever being so angry with him. She'd even beat him up a few times when they were little kids and she hadn't been so mad. He apologized about a hundred times, but she was through. She wasn't going to help him with his homework, listen to him moan and groan about his love life, cheer him on through all his big-headed accomplishments and then just sit home with her mother on prom night. Over. Done. Find yourself another sap to be your pal.
From that day on, they were only cordial. When he'd been in the car accident at age twenty, she'd sent a card to the hospital. When her mother died, Seth had come back to Thunder Point and took his mother to the funeral. He also bought the biggest bouquet he could afford. They'd run into each other a few times. They exchanged news, said nice things to each other, then… nothing. Twice he had said, "Iris, are we ever going to be friends again?"
"We are friends," she had replied.
"I mean real friends. Like we used to be."
And she had said, "No. I'm afraid not."
"Why?"
Deep sigh. "Because you could always count on me and it turned out I couldn't count on you. I don't do friendships like that anymore."
So now he was back. This town was going to be a big job. Mac had told him to be prepared to be on duty all the time whether he was on duty or not. There might be four deputies on the clock in town as well as the whole Sheriff's Department not all that far away, but as the supervisor he could be called upon whenever a supervisor was needed. Seth understood; he knew that when he signed on.
Along with a commitment like that, he had two other impossibly big projects ahead. He had to somehow make amends with his father. And he had to get Iris back. He was going to find a way to show them both — he might have been that shiftless, inconsiderate kind of teenager, but he was not that kind of man.
<~~~~~~~
Iris McKinley popped into the diner on Saturday at around one. She was wearing running tights and shoes covered by a fleece vest and long-sleeved T-shirt. Her thick, chestnut colored hair was pulled into a pony tail and poked through the back of her cap. She sat up at the counter and Gina asked, "Out for a run?"
"Sort of. I told Spencer I wanted to bump into him this weekend and he said he'd be around all day today. So I thought a jog out across the beach was a good idea. That made me hungry and I'm thinking BLT, fries and a chocolate shake. I know, I should be looking for cottage cheese and fruit but Stu might burn it."
"Stu makes a great BLT and fries." She slapped the ticket on Stu's counter. "You work closely with Spencer?"
"It's only his second season but if he sees me as a friend rather than administrator or counselor, we can keep that whole team playing. If I know where those guys stand on grades I can line up tutors before anyone goes delinquent because of grades."
"Do you get tutors from the high school?"
"Some. And some from town. Scott will take at least one science or math student, I can take a couple, Laine Carrington can tutor in a number of areas including Spanish, Lou McCain teaches middle school English so she can handle high school English tutorial — she's willing to help with a couple. Then there are teachers. Some of them get a little pissy about the attention the athletes get, but that's in their minds — I'm paying attention to every student. Tutors are everywhere I look, including some students. I'd ask you, but I figured with a new husband and four kids…. And of course I have the usual number of requests from football players for pretty girls." She laughed. "I'm afraid they're going to be disappointed."
"Are they basically in good shape with grades?" Gina asked.
"They are, but it only takes one tough class to sideline a player. And if there's one thing I've learned about high school boys, they'll die before they ask for help. That's why we watch the grades so closely. And the football players, in danger of being suspended from the team for failing grades, are a lot more visible."
"Iris, what made you decide to be a high school counselor?" Gina asked.
"I thought the fact that I didn't have it that easy in high school gave me something to offer. Especially the girls."
"Grades?"
"Oh hell no," she said with a laugh. "Other vitally important things — like hair." She laughed at herself. "I was awkward, not very popular, lonely … like a lot of girls. Boys, too. Even football players."
"You're so smart to make a career out of something that also gives something back. Or pays something forward."
"Smart was never my problem. Like I said, it was fitting in, having self-esteem, identity. Like about ninety percent of the girls I know. It's very fulfilling."
The bell dinged and Gina turned to pick up Iris's BLT. "Speaking of football players, an old football star is back in town. Seth."
"Hm," Iris said, chewing her first bite. "I heard. Then I ran into him — we were both getting gas."
"Didn't you date him in high school?"
"Me?" Iris asked. "Oh God no! He was the most popular kid in school! The homecoming king and star player. He dated the pretty girls." And she took another bite.
Gina laughed at her. "Excuse me, Iris, but you're beautiful."
"Don't be ridiculous. I've grown into my looks a little bit but back then? Ugh. But we grew up next door to each other and we were friends. In fact, I helped him with English and Biology. And I helped him prepare for SATs, which he could've cared less about since he was banking his entire future on football."
"How'd you do on the SAT?"
Iris grinned. "I killed it."
"Good for you! Big dumb jocks. Hey, what happened to his amazing football career? It seemed like it was here and gone awful fast."
"Car accident," Iris said, chewing. "He had a good year with the Ducks, then dropped out of college to take a contract with the Seahawks and played one season, or mostly watched one season with the pro team and then had a car accident. He was pretty badly injured. That was the end of his pro football career." She took another bite, washed it down with soda. "We try to impress upon these young men that education really does come in handy. Football careers are fragile. Unpredictable."
"Ah, I heard something about that, but no details."
"Me either," she said. "As far as I know it was an accident. An unfortunate accident."
"That's where the limp and the scar happened?" Gina asked.
And Iris nodded. She looked down at her plate and picked at a couple of potato chips. "It's not that much of a limp," she finally said. "He never told me exactly what happened." But Gwen Sileski had. Gwen told Rose and also Iris everything about Seth. He'd fractured bones in his right leg and required rods and plates and screws just to hold him together. He'd had a lot of other injuries and was lucky to be alive. He'd had several surgeries to save the leg. The injury and the repair left his right leg a little shorter and he wore a lift in his shoe. His mother said he wasn't in pain, but it had taken a lot of therapy and then training to get to that point. Iris couldn't imagine how hard the police physical exam must have been.
"The accident. A leg injury," Iris said. "But that scar… It almost does something for his looks, don't you think?"
Gina smiled. "It would take a lot more than that to make Seth Sileski hard to look at." She drew an invisible line across her cheek with her index finger.
"I know," Iris said, patting her mouth with the napkin. "Do you remember him in high school? What a lady killer."
"I dropped out at fifteen because of a lady killer," Gina reminded Iris. "At that time in my life, they were everywhere. But I admit, I wasn't paying too much attention to your slightly younger crowd. I remember Seth better from the last ten or twelve years, the few times he came through town and sometimes stopped here for a burger or cup of coffee. Gwen must be so thrilled to have her son in town."
"I think so," Iris said. "Listen, can I have a to-go? I don't think I'll get through the whole plate."
"Sure. I can't put the vanilla shake in the carton for you."
"I'll work on that a little more. So, while I do that, tell me about married life and your new family."
"Very complicated," Gina said. "We have two college freshmen, my daughter and Mac's daughter, still living at home and each working part time, applying to universities to attend next fall. Mac's schedule is going to be different — he'll work nights for at least a year. Then there's an eleven and thirteen year old committed to lots of teams, clubs and lessons — that means driving. My college girls help a lot but their time is at a premium because of studies and jobs. But life as Mrs. Mac?" She shot Iris a very large smile. "I didn't know I could be this happy."
Iris sucked the last of her shake through the straw, making it gurgle. "You took your sweet time finding the right guy."
"I know. Or he took his sweet time moving to town. Who cares? He was worth waiting for. Are you seeing anyone, Iris?"
"Nah. Not at the moment. There have been a few I thought had potential, but in the end I preferred my own company." She stood and fished into her pocket while Gina transferred the rest of her BLT and fries into a carton.
"And the company of high school students," Gina teased.
"They keep me on my toes. But I have my eyes open for an older, more settled model — say thirty-five, single, sexy and really into me…."
The diner door opened and Seth Sileski walked in, as if made to order. Beautiful Seth. High cheekbones, chiseled chin, moody eyes, white teeth, thin scar slanted across his cheek. Iris's mouth fell open and Gina just laughed.
"Well, hello, ladies," he said, taking off his deputy's hat. "Iris, what are the chances you'll let me buy you a cup of coffee?"
"Unfortunately, I'm on the run. I have plans that won't wait. In fact, I could already be late." She grabbed her to-go carton. "Thanks, Gina. See you around."
"Why do you always seem to be rushing off the second I show up?" Seth asked.
"I'm sure it's just a coincidence. Next time, Seth. I'd better go." She flashed him an accommodating smile and headed out the door. She took off at a gentle jog down the street and up the hill toward home.
Why? she asked herself. Why the hell does he have to be here? Is this just some vindictive angel's idea of a slow and miserable death for me? What did I ever do to deserve this? He could be here for a long time! How am I going to avoid him for years? Especially if he's the person I have to work with if I have teenagers in trouble?
Really, hadn't she been through enough in high school?
© Reprinted by permission. All rights reserved.
Keep Reading
back to Top