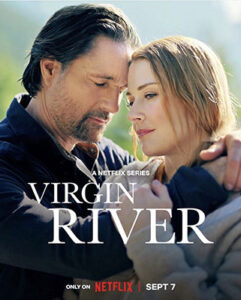 September 7, 2023
Season 5 (part 1) of VIRGIN RIVER, the international hit series based on my 21-book series, is now on Netflix! The long awaited new 10-episode season of Virgin River is ready for you to binge watch or enjoy at your leisure. Welcome back to Virgin River, the small town in beautiful, but rugged, northern California. Head to Jack's Bar, order Preacher's special of the day, and catch up with the local townsfolk. To get you started, here are a few helpful links.
Virgin River Season 5 Sneak Peek
VIRGIN RIVER Season 5 Trailer
VIRGIN RIVER on Netflix
VIRGIN RIVER Book Series
Spend the holidays in Virgin River! Virgin River season 5 will continue, with part 2, on November 30 with two holiday episodes! This is something we've all been hoping for, as there is no better place to spend the holidays than in Virgin River. Mark your calendar!