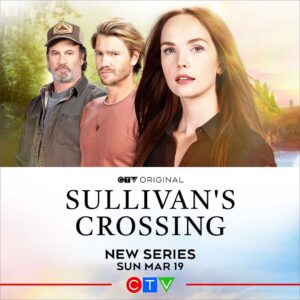 The Sullivan's Crossing TV series based on the Robyn Carr bestselling book series premieres on CTV Canada on Sundays at 7 pm ET/PT starting March 19, 2023. Canadian viewers will be able to watch the weekly drama that follows neurosurgeon Maggie Sullivan (Morgan Kohan, TRANSPLANT) as she takes a break from big city life to head to her childhood home of Sullivan's Crossing, a campground run by her estranged father Sully Sullivan (Scott Patterson, GILMORE GIRLS) located in picturesque Nova Scotia. A mysterious stranger, Cal Jones (Chad Michael Murray, ONE TREE HILL), complicates Maggie's carefully considered plans. Season 1 consists of ten 1-hour episodes. USA and worldwide distribution details are yet to come.
Read the full press release here.
Watch the Season 1 trailer here.