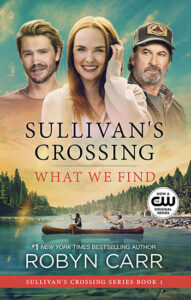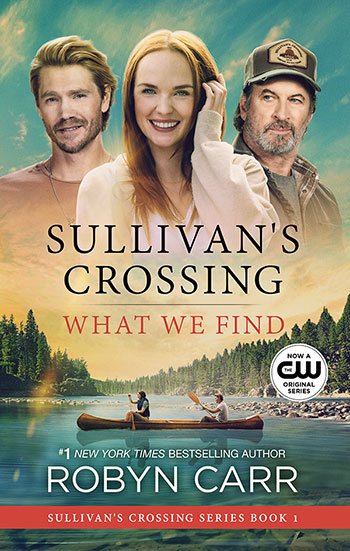 To celebrate the new hit Sullivan's Crossing TV series, my publisher has reissued the ebooks with new covers inspired by the TV series. The five-book series follows neurosurgeon Maggie Sullivan as she heads back to her childhood home, high in the Rocky Mountains, to reconnect with her estranged father.
In WHAT WE FIND (book #1), Maggie Sullivan needs to slow down and the best place to do that is Sullivan's Crossing, the campground and charming general store belonging to Maggie's eccentric father, Sully. A serious hiker, Cal Jones, offers to lend a hand around the store but Maggie is questioning his motives. Cal and Maggie, each with their own struggles, find the time they spend together offers them hope for the future, possibly together.
ANY DAY NOW (book #2) is the story of Cal's sister Sierra and what was to be a brief stopover in Sullivan's Crossing. But who can resist a special man and an adorable puppy?
In THE FAMILY GATHERING (book #3), Dakota Jones, fresh out of the military and at a crossroads, joins his siblings in Sullivan's Crossing. Dakota find himself attracted to one woman who really isn't interested.
THE BEST OF US (book #4), you will meet Dr. Leigh Culver who loves practicing medicine in Timberlake, Colorado but misses the woman who raised her, her Aunt Helen. Helen, a successful mystery writer, visits Leigh and finds herself falling for Sullivan's Crossing and one special person.
In THE COUNTRY GUESTHOUSE (book #5), Hannah Russell suddenly becomes guardian to a Noah, the five-year-old son of her dear friend. Hannah rents a country house on a lake in rural Colorado to spend some quality with Noah. When they arrive at the house, they are greeted by the owner, a handsome man and his clumsy Great Dane, Romeo.
Season one of the Sullivan's Crossing TV series is currently available to stream in Canada on CTV and Crave. In Australia, stream season one on Stan. In the US, the series airs on Wednesday nights 8/7c on The CW Network and streams the following day on The CW app or at https://www.cwtv.com/, no subscription needed. Since the TV series was filmed in Canada and produced by CTV Canada, the setting was changed from Colorado like in the books to beautiful Nova Scotia, Canada. Worldwide distribution to come. Plus the series has been renewed for season 2 on CTV Canada. A filming start date is yet to come. Welcome to Sullivan's Crossing! Read the books — Watch the series!