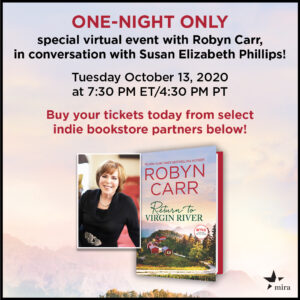 Please join Robyn Carr, Mira Books, and select independent bookstores on Tuesday, October 13, 2020 at 4:30 pm PDT / 7:30 pm EDT for a special event celebrating the release of RETURN TO VIRGIN RIVER. As a bonus, the interviewer will be Robyn's dear friend, #1 New York Times bestselling author of the Chicago Stars Series, Susan Elizabeth Phillips.
Visit Robyn's appearance page for details on how to purchase your ticket.
Welcome to Virgin River, strangers welcome—and you won't be a stranger for long.