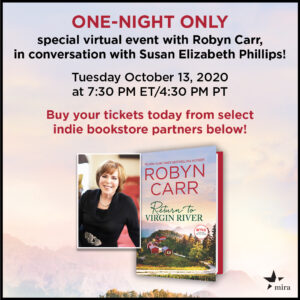 ONE-NIGHT ONLY SPECIAL VIRTUAL EVENT WITH ROBYN CARR
Tuesday, October 13, 2020
4:30 pm PDT / 7:30 pm EDT
To celebrate the release of RETURN TO VIRGIN RIVER, please join Robyn Carr, Mira Books, and select independent bookstores in this special release day virtual event. If you want to know the behind-the-scenes scoop on RETURN TO VIRGIN RIVER, you won't want to miss out!  As a bonus, the interviewer will be Robyn's dear friend, #1 New York Times bestselling author of the Chicago Stars Series, Susan Elizabeth Phillips. A fun conversation is sure to be had!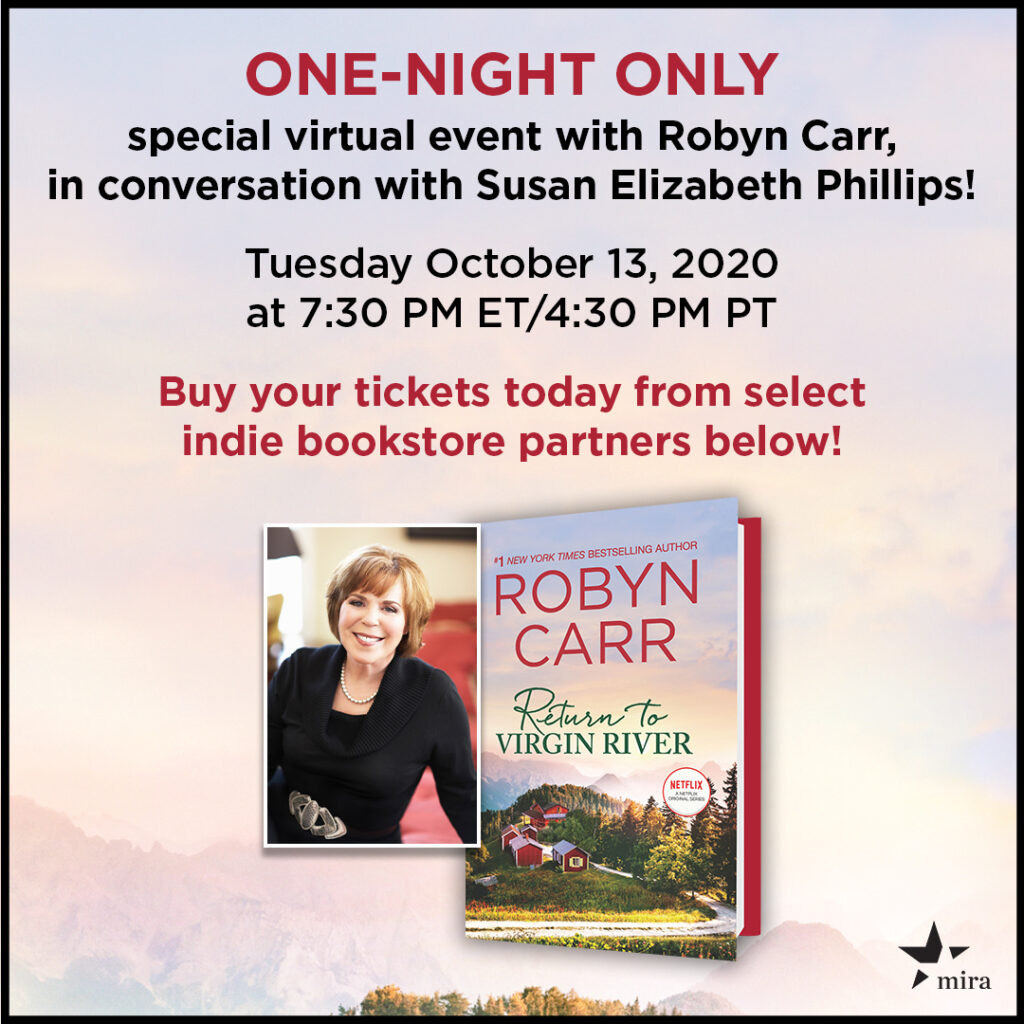 Here's how to purchase your event ticket:
Pick your favorite bookstore from the list to purchase tickets! Each ticket includes an exclusive bookplate-signed copy of RETURN TO VIRGIN RIVER. Individual stores will ship orders (or offer for local pick-up). Each participating store will also choose ONE ticket holder to WIN a Return to Virgin River Prize Pack! Domestic/US shipments only.
Participating Indie Bookstores include Anderson's (IL), Barrington Books (RI), Books Inc. (CA), Fountain Bookstore (VA), Katy Budget Books (TX), Main Street Book (MO), Tattered Cover (CO), Towne Book Center (PA), Writers Block (FL). Tickets available for purchase until 10 PM EDT on October 12, 2020.
A Zoom link for entry will be emailed on the day of the event. Join the event by clicking on the Zoom link on Tuesday, October 13 at 4:30 pm PDT / 7:30 pm EDT. After the event, each store will choose ONE ticket holder to win a Return to Virgin River Prize Pack! Winner will be notified via email. This event and shipping are open to US residents only.
Let's meet up at Jack's Bar, catch up with old friends, and meet a new visitor to Virgin River, Kaylee Sloan.  Welcome to Virgin River, strangers welcome—and you won't be a stranger for long. I hope you will join Robyn Carr on October 13 and RETURN TO VIRGIN RIVER.