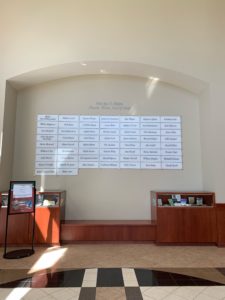 On Sept. 18, 2019
The University Libraries at the University of Nevada, Reno is pleased to announce the 32nd Annual Nevada Writers Hall of Fame honorees: #1 New York Times bestselling author Robyn Carr is the 2019 Nevada Writers Hall of Fame inductee, and Caleb S. Cage will receive the Silver Pen award.
In celebration of this year's honorees, the University Libraries invites literary enthusiasts to join us for An Evening with Robyn Carr and Caleb S. Cage on Thursday, November 7 at 6:30 p.m. at the Reno Renaissance Hotel, Downtown Reno located at One South Lake Street. Tickets are on sale now and space is limited.
"The Nevada Writers Hall of Fame is a time to celebrate the works of Nevada authors," Dean of University Libraries and Teaching & Learning Technologies, Kathlin Ray said. "Robyn's historical and contemporary romance novels, as well as her suspense novel, non-fiction work, short stories, articles and even screenplays demonstrate she is well worth celebrating! We look forward to honoring the many contributions Robyn has made to further strengthen Nevada's rich and vibrant literary landscape."
Adding to the excitement of this year's event, Netflix has announced it is currently producing a 10-episode series based on Robyn's Virgin River series. It is set to premiere in late 2019 or early 2020.
"I'm completely honored and humbled by this prestigious award," 32nd annual Nevada Writers Hall of Fame inductee Robyn Carr said. "It is an honor and a thrill to be inducted into the Nevada Writers Hall of Fame. Regardless of their setting, all my stories start in Nevada, the state where I've made my home for so many years and the place that continues to inspire me as a writer and storyteller every day. To be recognized and celebrated as a Nevada writer truly means the world to me."
(Press release from NEVADA Today)