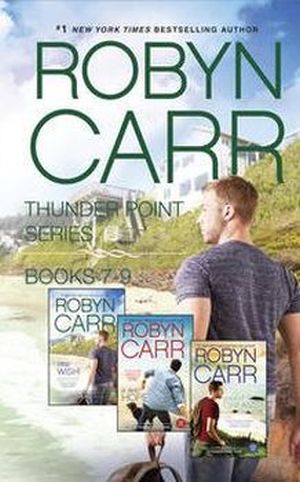 Thunder Point
Box Set
November 14, 2016
MIRA eBook
Thunder Point Series Books 7-9
Welcome back to the small Oregon town of Thunder Point! Enjoy books 7-9 in New York Times bestselling author Robyn Carr's fan-favorite series, now available for the first time in one collection.
One Wish (originally published March 2015 in mass market paperback)
Former champion figure skater Grace Dillon moved to Thunder Point to escape the ruthless world of fame and competition. But her quiet, self-sufficient life could use some excitement. High school teacher Troy Headly appoints himself Grace's fun coach, and they decide to enjoy a little no-strings-attached fling. Then Grace' past catches up with her, and she knows that complications are not what Troy signed up for. But Troy is determined to help her fight for the life she always wished for—and maybe they can find real love along the way.
A New Hope (originally published July 2015 in mass market paperback)
Ginger Dysart is swept up in the pleasure of assisting with a wedding at the beautiful Lacoumette farm. But the occasion is ruined when the bride's brother, Matt, makes a drunken spectacle of himself. Then Matt shows up at the flower shop, determined to make amends for his embarrassing pass at Ginger, and they find a connection deeper than either of them expected. Everyone worries Ginger will end up with a broken heart yet again. But with a little courage, there may still be hope for a happy ending.
Wildest Dreams (originally published September 2015 in mass market paperback)
Professional triathlete Blake Smiley wants to put down the roots he's never had and focus on his training without distractions. But his new neighbors change everything. A single mother, Lin Su Simmons has her hands full coping with her nursing job, debt and her teenage son's health issues. Lin Su resents any interference in her life. But Blake is certain he can break through her barriers and be the man she and her son need. Together, they can recognize that family is who you choose it to be.
Don't miss the other Thunder Point Series Boxed Sets:
Thunder Point Series Books 1-3