on

November 3, 2017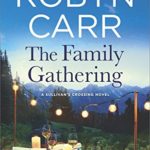 The Family Gathering is the highly anticipated new novel in #1 New York Times bestselling author Robyn Carr's Sullivan's Crossing series. Readers have fallen in love with Sullivan's Crossing and the characters who live there and will be delighted to spend time with their favorite people again. The rustic campground at the crossroads of the Colorado and Continental Divide trails welcomes everyone—whether you are looking for a relaxing escape or a whole new lease on life.
on

June 15, 2017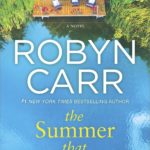 Mothers and daughters, sisters and cousins, they lived for summers at the lake house until a tragic accident changed everything. The Summer That Made Us is an unforgettable story about a family learning to accept the past, to forgive and to love each other again. 
That was then… 
For the Hempsteads, summers were idyllic. Two sisters who married two brothers and had three daughters each, the women would escape the city the moment school was out to gather at the family house on Lake Waseka. The lake was a magical place, a haven where they were happy and carefree. All of their problems drifted away as the days passed in sun-dappled contentment. Until the summer that changed everything.
This is now… 
After an accidental drowning turned the lake house into a site of tragedy and grief, it was closed up. For good. Torn apart, none of the Hempstead women speak of what happened that summer, and relationships between them are uneasy at best, hurtful at worst. But in the face of new challenges, one woman is determined to draw her family together again, and the only way that can happen is to return to the lake and face the truth.
Robyn Carr has crafted a beautifully woven story about the complexities of family dynamics and the value of strong female relationships.
on

November 30, 2016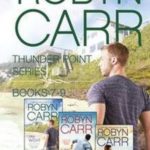 Welcome back to the small Oregon town of Thunder Point! Enjoy books 7-9 in New York Times bestselling author Robyn Carr's fan-favorite series, now available for the first time in one collection.
One Wish (originally published March 2015 in mass market paperback)
Former champion figure skater Grace Dillon moved to Thunder Point to escape the ruthless world of fame and competition. But her quiet, self-sufficient life could use some excitement. High school teacher Troy Headly appoints himself Grace's fun coach, and they decide to enjoy a little no-strings-attached fling. Then Grace' past catches up with her, and she knows that complications are not what Troy signed up for. But Troy is determined to help her fight for the life she always wished for—and maybe they can find real love along the way.
A New Hope (originally published July 2015 in mass market paperback)
Ginger Dysart is swept up in the pleasure of assisting with a wedding at the beautiful Lacoumette farm. But the occasion is ruined when the bride's brother, Matt, makes a drunken spectacle of himself. Then Matt shows up at the flower shop, determined to make amends for his embarrassing pass at Ginger, and they find a connection deeper than either of them expected. Everyone worries Ginger will end up with a broken heart yet again. But with a little courage, there may still be hope for a happy ending.
Wildest Dreams (originally published September 2015 in mass market paperback)
Professional triathlete Blake Smiley wants to put down the roots he's never had and focus on his training without distractions. But his new neighbors change everything. A single mother, Lin Su Simmons has her hands full coping with her nursing job, debt and her teenage son's health issues. Lin Su resents any interference in her life. But Blake is certain he can break through her barriers and be the man she and her son need. Together, they can recognize that family is who you choose it to be.
Don't miss the other Thunder Point Series Boxed Sets:
Thunder Point Series Books 1-3
on

November 30, 2016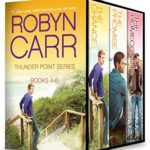 Welcome back to Thunder Point! Enjoy books 4-6 in New York Times bestselling author Robyn Carr's fan-favorite series, now available for the first time in one collection.
The Chance (originally published March 2014 in mass market paperback & eBook)
The locals of Thunder Point, Oregon, embraced FBI agent Laine Carrington as one of their own after she risked her life to save a young girl from a dangerous cult. So she stays recuperate from a gunshot wound and contemplate her future in a town that feels safe. Eric Gentry is also new to Thunder Point, determined to put his criminal past behind him and get to know the daughter he only recently discovered. When Laine and Eric meet, their attraction is obvious. But while they want to make things work, their differences may run too deep…unless they take a chance on each other and choose love over fear.
The Promise (originally published Juy 2014 in mass market paperback & eBook)
Dr. Scott Grant has a bustling family practice in the small community, and his two children are thriving—he knows it's time to move on from the loss of his wife. But as the town's only doctor, the dating pool is limited. That is, until the stunning Peyton Lacoumette applies for a job at his clinic. Even though the salary is much lower than she's used to, Peyton accepts the job…for now. She'll stay for a three-month trial period while she explores other options. Peyton's been burned before by a man with kids, and she's determined not to repeat mistakes. They both know the arrangement is temporary—it isn't enough time to build a real, lasting relationship. But love can blossom faster than you think, and this short visit just might hold the promise of forever.
The Homecoming (originally published September 2014 in mass market paperback & eBook)
The people in Seth Sileski's hometown have never forgotten what might have been: the handsome star athlete and student lost everything in a terrible accident that put an end to his professional football career when it had barely begun. Seth has come to terms with the turns his life has taken, and now he has an opportunity to show everyone he's become a better, humbler version of his former self. Winning over his father is the main challenge, but Seth must also find a way to convince his childhood neighbor and best friend, Iris McKinley, to forgive him for breaking her heart. With his homecoming, will Seth be able to convince the town, his family and especially Iris that he's finally ready to be the man who will make them all proud?
Don't miss the other Thunder Point Series Boxed Sets:
Thunder Point Series Books 1-3
on

November 30, 2016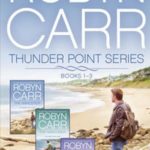 Enjoy books 1-3 in Robyn Carr's fan-favorite series, Thunder Point, now available for the first time in one collection.
The Wanderer (originally published April 2013 in mass market paperback & eBook)
When Thunder Point newcomer Hank Cooper learns he's been left an old friend's entire beachfront property, he finds himself with a community's destiny in his hands. With the whole town watching for his next move, Cooper has to choose between his old life and a place full of new possibilities. A place that just might be home.
The Newcomer (originally published July 2013 in mass market paperback & eBook)
Single dad and Thunder Point's deputy sheriff "Mac" McCain has worked hard to keep his town safe and his daughter happy. Now he's found his own happiness with Gina James. But when Mac's long-lost ex-wife shows up in town, drama takes on a whole new meaning. Mac and Gina know they're meant to be together, but can their newfound love withstand the pressure?
The Hero (originally published September 2013 in mass market paperback & eBook)
In a moment of desperation, Devon McAllister takes her daughter and escapes to Thunder Point, a place she hopes to be invisible, a place she's pretty certain can't be worse than what they've left behind. But as the widowed father of a vulnerable young boy, Spencer Lawson knows something about needing friendship…and is just the kind of man who could heal Devon's wounded heart.
Don't miss the other Thunder Point Series Boxed Sets:
Thunder Point Series Books 4-6
on

November 11, 2016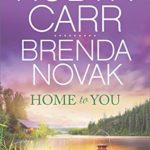 Now together in one volume, the first books that started two fan-favorite series!
Virgin River "A Virgin River Novel #1" by Robyn Carr
When recently widowed Melinda Monroe answers an ad for a midwife/nurse practitioner in the remote mountain town of Virgin River, her high hopes for a fresh start are dashed within an hour of arriving. The cabin is a dump, the roads are treacherous and the local doctor wants nothing to do with her. Mel decides to leave town the following morning, but a tiny baby, abandoned on a front porch, changes her plans…and former marine Jack Sheridan cements them into place.
Originally published April 2007 and reissued May 2010 and December 2012)
When Lightning Strikes "Whiskey Creek #1" by Brenda Novak
Gail DeMarco's PR firm handles a roster of clients, including sexy and unpredictable Simon O'Neal. But recently divorced Simon is so busy self-destructing he won't listen to anything she says. She drops him from her list—and he retaliates by taking the rest of her clients with him. Desperate to save her company, Gail reluctantly humbles herself by making a deal with Simon. But her reluctance isn't because he's hard to like—it's because he's too hard not to love.
Originally published September 2012.
on

November 11, 2016
Sullivan's Crossing is a rustic campground at the crossroads of the Colorado and Continental Divide trails that welcomes everyone—whether you need a weekend getaway or a whole new lease on life. It''s a wonderful place where good people face their challenges with humor, strength and love.
For Sierra Jones, Sullivan's Crossing is meant to be a brief stopover. She's put her troubled past behind her but the path forward isn't yet clear. A visit with her big brother Cal and his new bride, Maggie, seems to be the best option to help her get back on her feet.
Not wanting to burden or depend on anyone, Sierra is surprised to find the Crossing offers so much more than a place to rest her head. Cal and Maggie welcome her into their busy lives and she quickly finds herself bonding with Sully, the quirky campground owner who is the father figure she's always wanted. But when her past catches up with her, it's a special man and an adorable puppy who give her the strength to face the truth and fight for a brighter future. In Sullivan's Crossing Sierra learns to cherish the family you are given and the family you choose.
Originally published April 2017 in hardcover and eBook.

on

May 2, 2016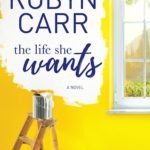 #1 New York Times bestselling author Robyn Carr creates an emotional and uplifting ensemble of characters in this rags-to-riches-to-rags novel about women, friendship and the complex path to happiness 
In the aftermath of her financier husband's suicide, Emma Shay Compton's dream life is shattered. Richard Compton stole his clients' life savings to fund a lavish life in New York City and, although she was never involved in the business, Emma bears the burden of her husband's crimes. She is left with nothing.
Only one friend stands by her, a friend she's known since high school, who encourages her to come home to Sonoma County. But starting over isn't easy, and Sonoma is full of unhappy memories, too. And people she'd rather not face, especially Riley Kerrigan.
Riley and Emma were like sisters—until Riley betrayed Emma, ending their friendship. Emma left town, planning to never look back. Now, trying to stand on her own two feet, Emma can't escape her husband's reputation and is forced to turn to the last person she thought she'd ever ask for help—her former best friend. It's an uneasy reunion as both women face the mistakes they've made over the years. Only if they find a way to forgive each other—and themselves—can each of them find the life she wants.
on

April 4, 2016
The emotional story of a young woman's journey as she leaves behind all the things she thought she wanted only to discover who she really is. #1 New York Times bestselling author ROBYN CARR explores the challenges facing women today as they are valued for what's on the outside rather than the inside.
Jennifer Chaise is proud of her life. Coming from nothing, she's used her beauty to her advantage and is swept up in a glamorous world of wealth and privilege as the mistress of a high-flying businessman. But when she walks in on a violent scene in their Las Vegas hotel room, Jennifer knows she can no longer ignore the truth about her boyfriend and she flees. Desperate to escape the men searching for her, she invents a whole new persona—with a new look and a new name—as she hides out in a small Nevada town.
Working as a waitress in the local diner, she finds a mentor in Louise, a retired professor who takes her in. As Jennifer begins to embrace a new life, she realizes how much was missing from her old one: a sense of community and purpose… But it's not easy to simply disappear. Her neighbor Alex is a cop, and while he's friendly enough, he may also suspect that Jennifer is not what she seems.
Although she is under constant threat of being discovered, Jennifer is surprised to realize that, for the first time, she's genuinely happy. Suddenly this real world is all she wants. But will it be enough when her past catches up with her?
Originally published as RUNAWAY MISTRESS May 2005 in mass market paperback
on

March 7, 2016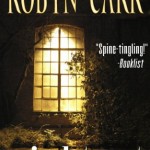 Still reeling from her young son's death, Jackie Sheppard retreats to a small town in the Colorado Rockies. Comforted that no one knows of her tragic past, she's thrilled to take a job at a family law firm, where she meets Tom, the local carpenter. Jackie's distrust of others hinders their relationship, but they slowly build a budding romance.
However, as she begins to settle into her new life, disturbing things start happening to Jackie–objects are moved around her house, an indentation of a body appears on her freshly made bed, and a bouquet of wildflowers are inexplicably left by her door. With eccentric residents in the town, Jackie dismisses the oddities, but as Tom's checkered background reveals that his wife and child were murdered, Jackie believes she may be the next target of a sadistic killer.
Acclaimed for its strong characters and thrilling plot, MIND TRYST is Robyn Carr's only psychological suspense novel. Delighting fans of suspense since 1993, it will continue to leave readers looking over their shoulders long after they've turned the last page.